The Tidelands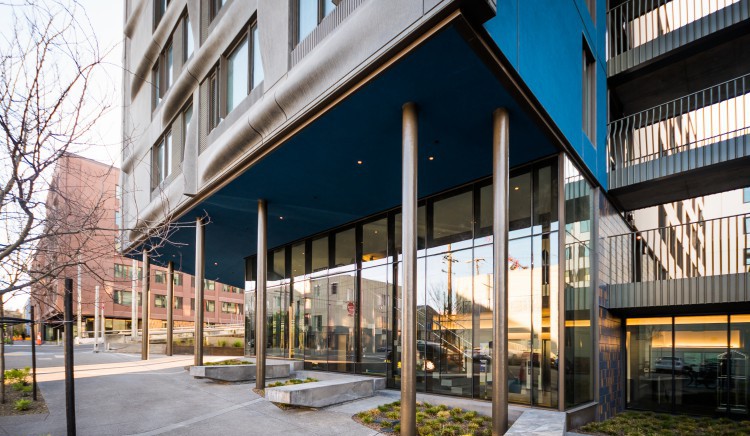 New Housing in the Dogpatch Neighborhood: Welcome to The Tidelands
Conveniently located on Minnesota Street, just one block south from the Mission Bay Hospital, The Tidelands is UCSF's most sustainable housing community. A great choice for those seeking privacy in an efficiency/studio/1-bedroom or looking for a private bedroom to share. The Tidelands is the ideal location for singles and couples who embrace city living and plan to use the various public transportation options located nearby.
Virtually stroll through all the neighborhoods surrounding The Tidelands here.
The Tidelands Amenities:
• Furnished units with a bed frame and mattress, desk and task chair, and a dinette for two. Studios also include a loveseat/couch. 1-Bedrooms include a separate, furnished living room with a love seat, accent chair, and coffee table. Note a few 1-bedrooms are not furnished. See floorplan descriptions for more details.
• Modern induction stovetop, convection microwave oven, and an apartment sized refrigerator. Note: You will need to bring pots and pans that are compatible with induction cooktops.
• Conveniently located study rooms located on each floor
• Two pay-by-use laundry rooms are available in each building
• 24/7 emergency maintenance response
• Indoor bike room for bike storage
• Automatic ERV fresh air fan. This fan helps keep air circulating by bringing in fresh filtered air (warm and cool) and pulling out any undesirable odors. Note: The fan can be loud so please close the bathroom door for a quieter experience.
• Powered by 97% carbon-free electricity and furnished with safer materials. See all of Tidelands' sustainable attributes here.
• Modern feel with industrial and concrete finishes.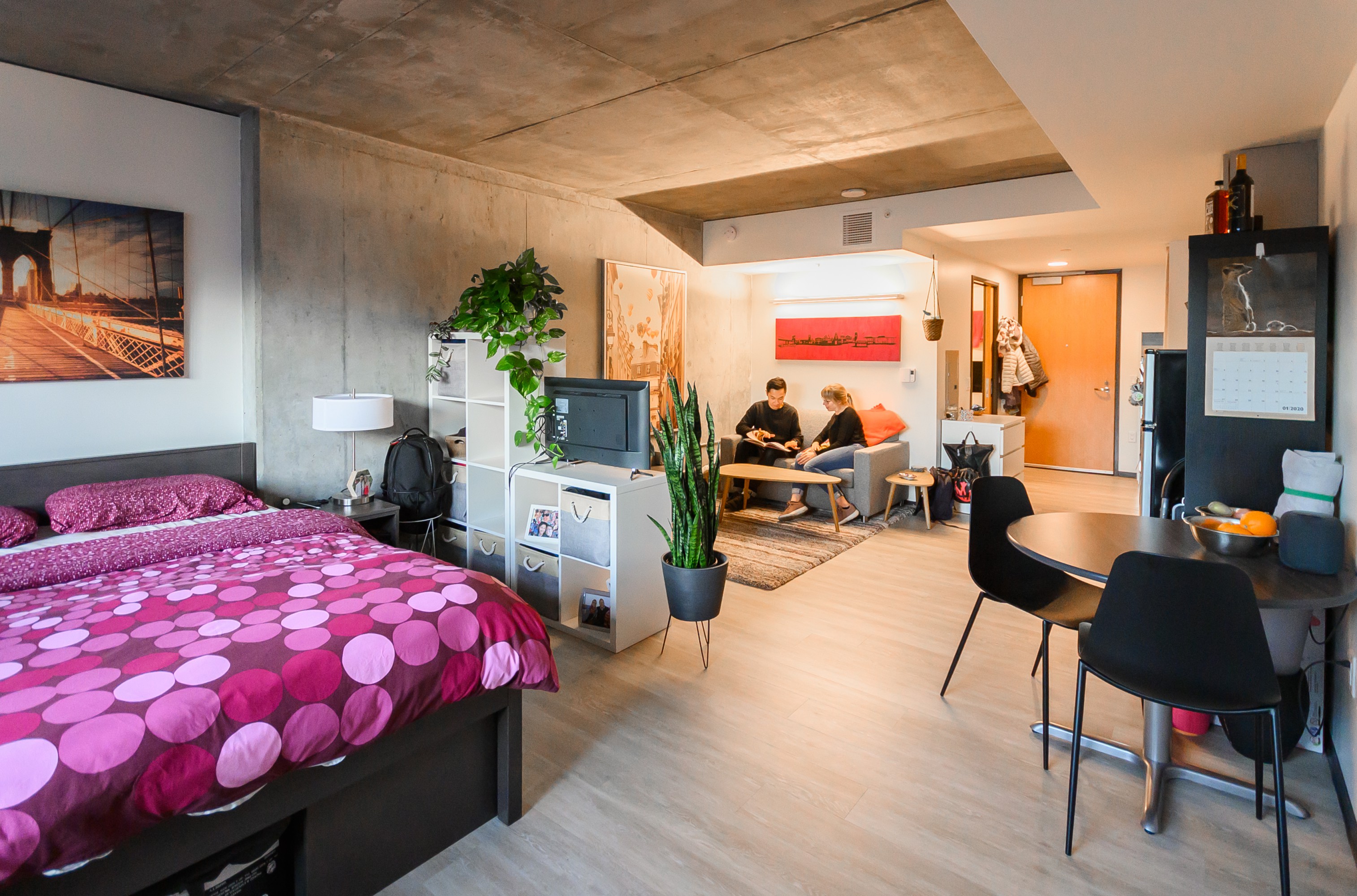 The Tidelands Activities:
• Meet your neighbors in the lobbies, game room, and TV lounges
• Gather in the community and multipurpose rooms for larger social events
• Form study groups in our study lounges
• Work out together in the mini fitness center. In addition, full-service fitness amenities are available at the Bakar center just two blocks away*
• Find your inner peace relaxing in the courtyards and sun decks
• Many restaurants and bars close by in the Dogpatch, Potrero Hill, and Mission Bay neighborhoods
*UCSF students have a Fitness & Recreation membership included in registration fees, others may have enrollment and membership fees.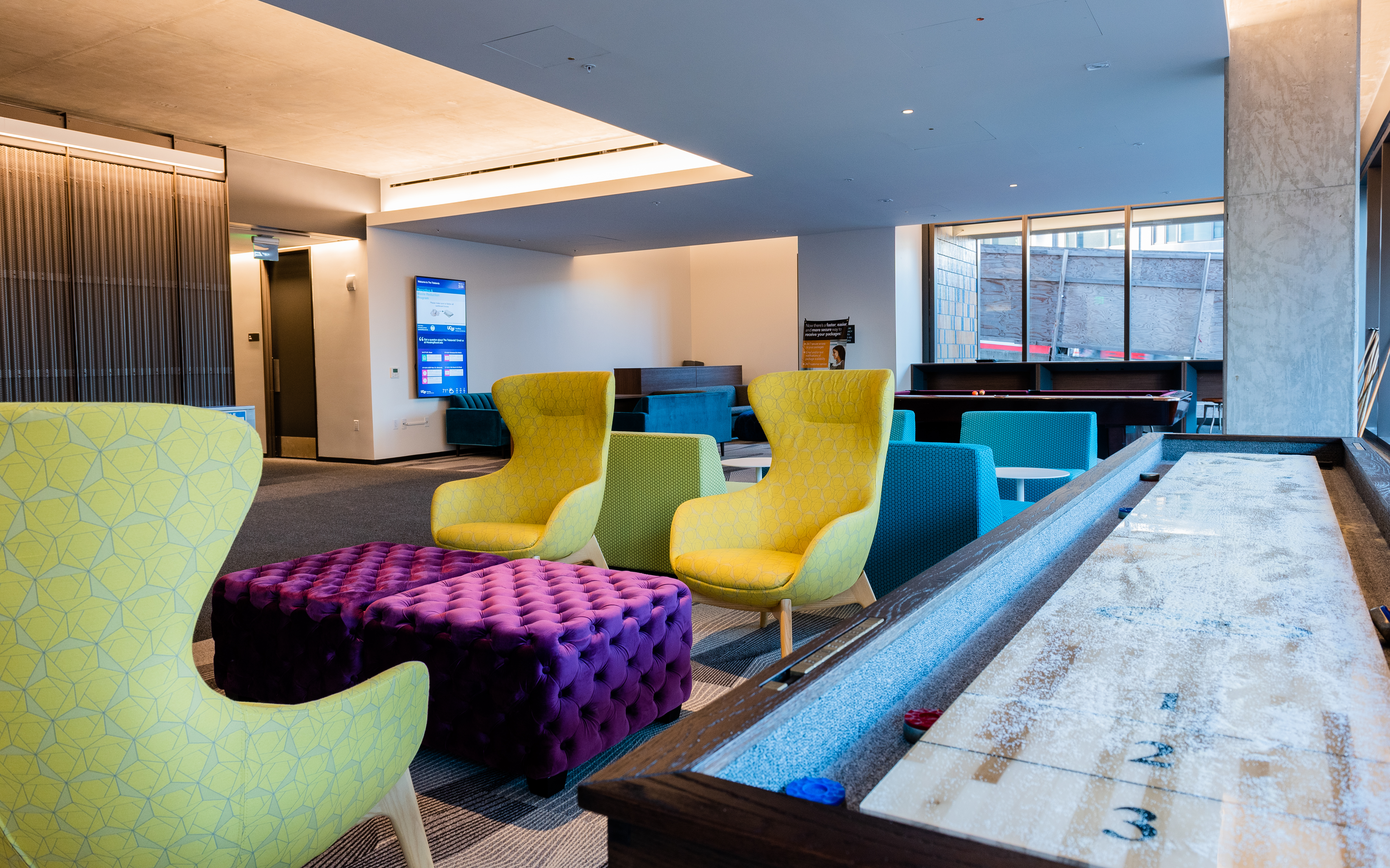 WATCH: Top 4 reasons to live at The Tidelands
---
Getting Around the Neighborhood
• UCSF Grey Shuttle to Parnassus is about 3 blocks away
• Zipcar car share within 1 block at 654 Minnesota St.
• Ford GoBikes within 1 block at Esprit Park
• T-3rd Muni train within 2 blocks
• Mainstay Market within .5 miles (11-min walk)
Parking at The Tidelands
Tidelands tenants are able to purchase parking permits at Mission Bay through Transportation Services. More info here.
If you have questions about Parking at the UCSF campuses, please contact them at 415-476-4646 or .(JavaScript must be enabled to view this email address).
Guest Parking
Guests of Tidelands tenants can purchase overnight parking using the PayByPhone app. Once the app has been downloaded and the guest has set up an account on PaybyPhone, they can simply enter Location #2283 to access the guest rate. The $20.00 guest rate is valid from 5pm-9am M-F and all day on weekends and holidays. Questions? Call 415-476-1511.
Tidelands Floor Plans
Floor plans are provided for informational purposes only.
Search Tidelands Floor Plans
View 590 Minnesota Street Building Floor Plans
View 600 Minnesota Street Building Floor Plans
Or, view pictures of all floor plans at the bottom of this page.
Frequently Asked Questions about The Tidelands

Q: Can I bring my own furniture? If not, do you have storage?
A: We provide furniture at The Tidelands, so you will not need to bring your own (except for a few 1-bedroom units). We do not have any storage space available for tenants. Here is a full list of what each unit comes with and what you should bring.
Q: What is included in the rent at The Tidelands? What utilities are included?
A: Access to all building amenities as well as water and garbage/recycling. Tenants living in efficiencies/studios/1-Bedrooms must contract with PG&E to pay for electricity. Tenants in shared 2-bedrooms have PG&E electricity included in their rent. There is no gas in the buildings. Tidelands will not have cable services so tenants will have to bring antennas or use their WiFi to access television channels.
Q: Is there WiFi?
A: Yes, UCSF WiFi will be present in the buildings. There are also UCSF Ethernet ports available. Access the manual here.
Q: What are the amenities available at The Tidelands?
A: See this amenities chart to view all of the amenities available at The Tidelands and at our other communities.
Q: Is there a shuttle that will take me to other campuses?
A: All of the main UCSF shuttle routes pick up and drop off from the Mission Bay campus, which is about a 5 minute walk from The Tidelands. From there, you will be able to get on a shuttle to all other UCSF campus locations.
Q: Will there be parking? How can I get a permit?
A: Tenants of The Tidelands are eligible to park at nearby Mission Bay parking garages. They are not eligible for city parking permits due to the limited amount of parking in the area. Tenants will have access to nearby public transportation, UCSF shuttles, and nearby car/ bike share.