Kirkham Child Care Center at Parnassus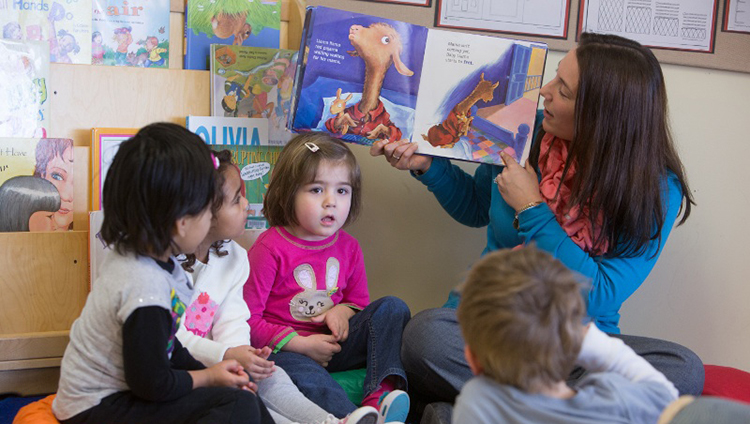 Licensed for 93 children.
Ages served: 24 months to 5 years
Open since 2010 and operated by Bright Horizons Family Solutions, the Kirkham Child Development Center is conveniently located at the south end of UC San Francisco's Parnassus Campus at 4th and Kirkham Streets in San Francisco.
Full day, two, three or five day a week preschool and Kindergarten prep program schedules are available to parents, providing age-appropriate multi-disciplinary environments that promote individual skill-building and socialization, while nurturing a lifetime love for learning. For more information about curriculum and staff at this location, visit Bright Horizons.
For younger children, the Marilyn Reed Lucia Child Care Study Center at Parnassus serves infants and toddlers from 3 months-24 months. Children in this program transition to the Kirkham Child Development Center on Parnassus when developmentally appropriate and space becomes available.
Join the Wait Pool >>
Rates & Policies >>

Address
10 Kirkham Street
San Francisco, CA 94143-0926
Click here for a Parnassus map.
Hours
7:00 am-6:00 pm, Monday-Friday
Contacts
Nancy Costantiello, Director
phone: 415.664.1217
fax: 415.664.1559
e-mail: .(JavaScript must be enabled to view this email address)
Nathalie Larsen, Regional Manager, UCSF Child Care Centers
phone: 415.994.8040
e-mail: .(JavaScript must be enabled to view this email address)

2020/21 Rates & Policies (Effective September 1, 2020)
SCHEDULES


HOURS


DAYS PER WEEK


Preschool I
2 days/wk
3 days/wk
5 days/wk
Full-Days
7:00-6:00
$1,132 per month
$1,575 per month
$2,219 per month
Preschool II
2 days/wk
3 days/wk
5 days/wk
Full-Days
7:00-6:00
$1,216 per month
$1,710 per month
$2,476 per month
Yearly Fees
New Student Application Fee (Places Name in Wait Pool)
$75
Continuing Student Registration (Due in Spring)
$100
Drop-in Child Care for Enrolled Child
$15/hr
NSF Fee
$25
Yearly Activity Fee (Covers Special Events)
$150
Late Payment Fee (Daily)
$20
*Community rates apply when an enrolled family's UCSF affiliation concludes.
Contact the Site Director to inquire about community rates.
Community Enrollment: If you live in the immediate neighborhood surrounding Kirkham Street (including Kirkham Heights), 6th Avenue, Parnassus Avenue and 4th Avenue, and are interested in joining the Kirkham Center wait list, please contact the Site Director to learn about limited enrollment for non-UCSF affiliate neighbors.