Nine Projects Chosen for Community Wellbeing Grants
---
By Robert Hood on November 30, 2021
---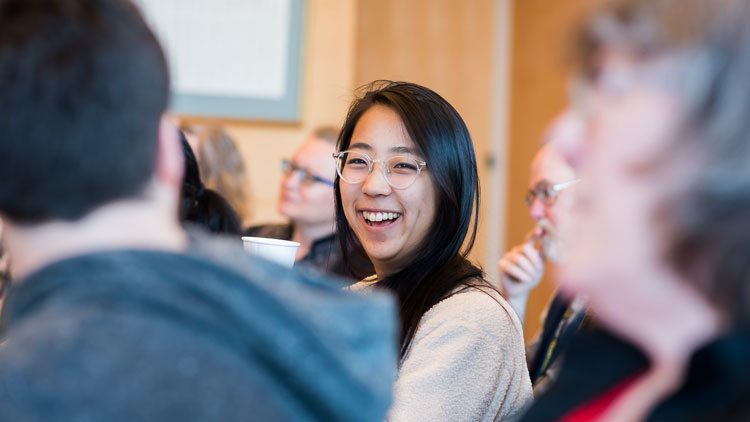 Nine projects supporting the health and wellbeing of the UC San Francisco community have been chosen to receive Community Wellbeing Grants funded by Wellness and Community, a department within Campus Life Services. A total of 310 applications were received.
"It was exciting to see the overwhelming response to our request for proposals," said Wellness Program Manager, Kathleen Yumul. Campus Life Services offered similar grants in 2018.
Proposals were reviewed by members of the UCSF Wellbeing Committee, a cross-disciplinary group with representatives from both campus and UCSF Health. "The review committee was looking for proposals that promote health and wellbeing among one or more of our pillars of wellness: emotional, physical, social, financial, career, environmental, and spiritual" she said.
Yumul said a total of $60,000 was set aside to fund these grants and all selected projects must be completed by June 30, 2022. "It was very difficult for the committee to narrow down the selection to just nine, since many outstanding proposals were submitted."
Winning projects are detailed below and reach UCSF students, trainees, staff and faculty in Fresno, Oakland, and San Francisco:
1. UCSF Fresno Combined Wellness
Amanda De Lima Croft, wellness specialist at UCSF Fresno's Campus Life Services, said the UCSF Fresno community is eager for more opportunities to engage socially. "The proposal is filled with opportunities for interpersonal interactions," De Lima Croft said. Students in the SJV PRIME Program will learn how to paint a masterpiece by following along to an instructional video while staff and faculty at the Alzheimer and Memory Center will participate in a virtual tour of a chocolate factory with advanced chocolates to taste. The Hildebrand Medical Library will also use funds for a book study on Equity by Design that will discuss how faculty can integrate recent brain/learning research into their teaching practice.
2. The See Us Portrait Project – Phase 2 at Mission Bay
Organized by the UCSF Benioff Children's Hospital's Black Caucus, the See Us Portrait Project – Phase 2 will feature portraits of Black, Indigenous, and People of Color (BIPOC) colleagues across the Benioff Children's Hospital campus in the spirit of celebrating the diversity that makes the UCSF community strong. Abdur Shemsu, assistant director of corporate partnerships at the UCSF Benioff Children's Hospitals Foundation, coordinated the proposal.
"What started out as a small project in 2020 to diversify the all-white male portraits on the walls of BCH-Oakland has taken on a life of its own, with many taking this opportunity to highlight BIPOC doctors, nurses, and staff who work diligently behind the scenes to provide exceptional care, without any recognition or accolades."
3. Lunch and Learn Program at the UCSF Medical Center
Occupational Therapist Caroline Diorio and Doctor of Physical Therapy, Kimberly Griswold, both work at the Department of Rehabilitative Services at the UCSF Medical Center and coordinated the Lunch and Learn Program. "It is an educational session and group discussion class geared toward the practice of 'self-care for caregivers,'" Diorio said. "In the face of the many stresses related to the COVID-19 pandemic, team members have expressed frustration with staffing shortages and signs of caregiver burnout. This program is designed as a way for team members to take some time out from their busy day to talk about their feelings and reach out to one another for support." The experts from the UCSF Rehabilitation Team will host classes and the activities are open to all involved in patient care at UCSF.
4. Healers Connection, RAW, Mentorship BCH Oakland
Allison Coleman, HS Clinical Instructor at Benioff Children's Hospital, Oakland, helped develop three separate projects all designed to enhance resident wellness and resiliency, increase connections between resident and attending physicians in Oakland, and reduce rates of burnout. "The first program is called Healer's Connection, and it's a regular gathering outside of work for resident physicians, fellows, and attendings to discuss the trials and triumphs of practicing medicine," she said. Coleman is also organizing a Resident and Fellow Appreciation Week and a formalized mentorship program that helps connect resident and attending physicians outside of work.
5. First-Generation Book Collective
Cassie Xu, a student in the School of Nursing, developed this proposal.
"The goal of the First Generation to College Book Collective is to create a nourishing, personal, yet provocative space for human connection, through an interdisciplinary, intersectional book collective for first-generation UCSF students," she said. "The pandemic highlighted the need for spaces that facilitate organic relationships, especially for historically underserved students."
Xu said the collective will not only engage diverse perspectives but also share in what the students have in common – first generation status – by facilitating challenging, necessary, and deep conversation through the magic of literature. The new book club will start in January and will consist of small cohorts of students interested in creating a space where they can build connections and partake in conversations centered around first generation and intersectional identities. There will be in-person gatherings with relaxed, student-led discussions.
6. Trainee Led Mental Health Initiative
Wendy Hung, a graduate student in Biomedical Sciences, developed the proposal for a Trainee-Led Mental Health Initiative to help establish a committee focused on advocating for sustainable mental health culture in academia.
"Good research cannot come at the expense of the wellness from those performing it," she said. "Academia must encourage the development of well-rounded scientists by prioritizing emotional intelligence, mental health, and pursuit of interests outside of science."
Hung and other trainees have established a steering committee consisting of 15 graduate students spanning different years and programs, administrative support, and a faculty advisor. "With support from the UCSF Wellness & Community Grant, we will be putting on various events throughout the year that will actively fight against some of the stereotypes plaguing the academic community and other events which highlight the talents of our community outside of science."
7. Soul Care Communion for Black Birth Workers
EMBRACE: Perinatal Care for Black Families is a racial concordant, integrative care program through the partnership of medical and mental health providers from the Department of OBGyN and the Department of Psychiatry and Behavioral Sciences. Dr. Andrea Jackson and Markita Mays, LCSW, have been intentional to create a program infrastructure that uplifts Soul Care: Healing for the Healer. The EMBRACE team will host quarterly Soul Care Communions for Black Birth Workers at UCSF that will allow community, connection, fellowship, wellness, and reflection. "Soul Care Communion will be led by a wellness practitioner who can integrate Afro-indigenous spiritual rituals and mindfulness practices, provide psychoeducation on cultural trauma and collective grief, and emphasize the use of storytelling in small breakout groups to reflect on the impact of their work," Mays said. Additionally, EMBRACE would like to support each Black birth worker with a restorative wellness gift from a Black-owned business.
8. Black Healing Night for Residents & Fellows
Following the successful Black Healing Day held in March2021, UCSF Resident Tiana Woolridge has proposed a Black Healing Night for Black residents and fellow physicians to build community and engage in healing activities. This would include healing exercises led by Black wellness providers, creative reflection, and time to connect with each other over a shared meal.
"I want people to recognize and honor the importance of caring for the caregivers, and for creating the time and space for own healing,"
Woolridge said. She said Black residents and fellows shoulder a daily emotional burden, working 80+ hours a week on the frontlines while also navigating a pandemic predominantly affecting and killing members of the Black community. "One of the best ways to build resilience – being in community with others – has not been possible due to regulations and cancellation of in-person activities during the pandemic. This would help address that."
9. Language Translation of COPE Videos
The UCSF Cope Wellbeing Program was created during the COVID-19 crisis to provide emotional support for all UCSF employees. The program has a curated collection of online self-management tools (webinars, apps, videos, and other resources) that it will translate into a number of different languages to make them more accessible to the diverse population within the UCSF community. "The videos have already been translated into Spanish but this will allow us to reach other populations and, by doing so, UCSF Cope hopes to support the university's efforts to foster a sense of belonging among staff and to promote equity and inclusiveness," said Shoba Dandillaya, who is managing the project.