Join the UCSF Community for "Recess Time"
---
By Robert Hood on October 18, 2021
---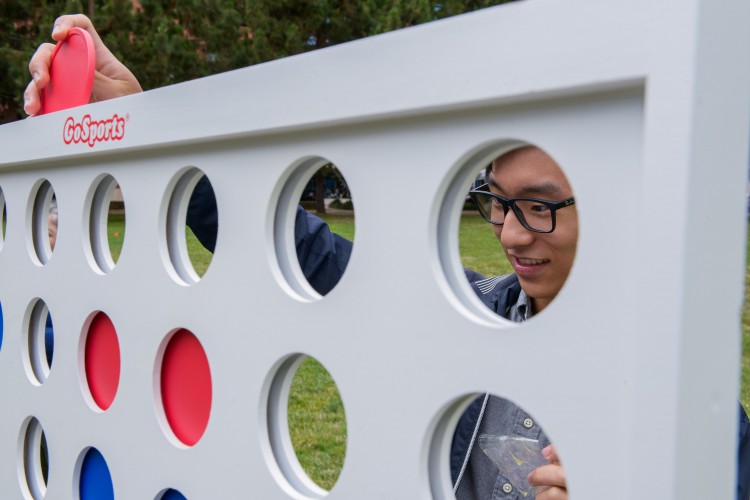 Are you tired of Zoom meetings and staring at the empty walls in your office, wherever that may be? Do you want to engage with your UC San Francisco coworkers? Join Campus Life Services on Thursday, Oct. 21 from noon until 2pm on the Mission Bay Quad for "Recess Time".
"We understand people are ready to step away from their computers and engage as a UCSF community again," said Assistant Director of Wellness & Community, Jen Mannix. "That's why we're scheduling Recess Time!"
Mannix said the suggestion for onsite activities came from the Chancellor's Cabinet and in response, Campus Life Services, Fitness & Recreation and Wellness and Community created Recess Time.
Recess Time will be held on the Mission Bay Quad every Thursday from noon to 2pm., Oct. 21 through Dec. 2. Activities include Connect 4, giant Jenga, cornhole, giant and regular chess, badminton, soccer and more. The Oct. 21 "Recess Time" will also include a midday yoga break. Events will be canceled if it rains but the midday yoga break scheduled on Oct. 21 at noon will relocate to the Bakar Fitness Center at Mission Bay.
Beginning Wednesday, Nov. 3, activities will also be held at Parnassus in the Millberry Union gymnasium. "We know wet weather is coming so we'll create the same environment indoors at Parnassus," Mannix said.
In addition to fun and games, the events will provide opportunities for UCSF Staff Registered Campus Organizations (RCOs) to educate the community about their offerings. Staff RCOs bring people together who share a common interest such as art, culture, recreation or professional activities.
For more information, contact .(JavaScript must be enabled to view this email address) or visit the UCSF Calendar.