Step It Up
Registration for our annual Step It Up holiday wellness challenge is now open! Sign up today and join the challenge with a team with colleagues or as an individual participant. The 5-week online challenge will run from November 12 through December 16 and focuses on physical activity, gratitude, and recognition.

CLICK HERE TO REGISTER!
Participants who meet the weekly and overall challenge goals will be entered in prize drawings for Amazon.com gift cards (we're giving away ten every week!) Challenge is open to UCSF faculty, staff, trainees and students. Read below to see how you can participate in our recruitment challenge to win a free Insulated Lunch Box.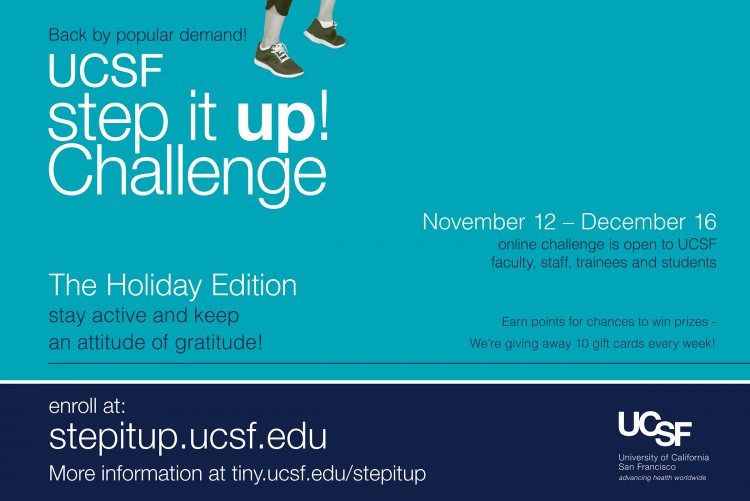 We are looking forward to a great challenge this year. The challenge doesn't start until November 12th, but read on for ways you can prepare for the challenge and help to spread the word!
Step It Up Recruitment Challenge
Participate in our recruitment challenge and get a free Insulated Lunch Box!
Lunch boxes available while supplies last. To participate, do at least one of the following:
Email at least 5 colleagues inviting them to participate in the challenge. CC

.(JavaScript must be enabled to view this email address)

*
Post a flyer in your break room and send a picture to

.(JavaScript must be enabled to view this email address)

*
Make an announcement about the challenge in a department meeting or newsletter. Email

.(JavaScript must be enabled to view this email address)

to share what you did*
*In your email to

.(JavaScript must be enabled to view this email address)

, please include your campus box number to send your lunch box to (If you are a student and/or do not have a campus box number, you'll need to pick it up in person at Parnassus)
Get ready to start tracking your physical activity. You can track in a few different ways:

Activity Tracker: There are many popular activity trackers that will count your steps, as well as track your calorie expenditures and sleep. You can link your Fitbit or Apple Watch directly to the challenge site. Learn more here.
Challenge App: You can download the app for our challenge software platform to automatically import your activity into the challenge every time you open the app. The app is available for Apple or Android devices. To find it, search for "Extracon Health Tracker" in your app store.
Another Phone App: There are many free health applications that you can download to your phone that will track your activity. If you have an iPhone, you can use the Health App, which comes with your phone (you can then link the Health app right to the challenge site). There are other free health apps you can also use.
Pedometer: This device counts steps. If you have one from a previous challenge, you can use it, or you can purchase one for less than $5.
Questions about the Challenge? Email .(JavaScript must be enabled to view this email address). Looking forward to Stepping it Up with you!