UC Walks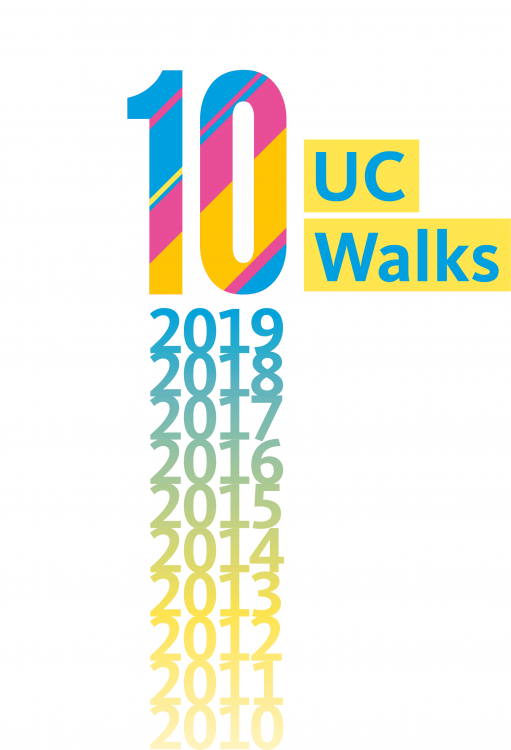 We look forward to walking with you in 2019! Our 10th Annual UC Walks Day event will take place on Wednesday, May 1st from 11AM to 1PM. Mark your calendars! Events will be held at Parnassus, Mission Bay, Mount Zion, ZSFGH, VAMC, Mission Center Building, Laurel Heights, 8000 Marina Blvd and Fresno. Free t-shirts available while supplies last.
UC Walks Day is an annual event in which thousands of University of California faculty, staff and trainees take time for wellness at the same time across the state. Learn more about UC Walks and view the 2018 slideshow at the UC Systemwide Wellbeing initiative website.
Events will be held at Parnassus, Mission Bay, Mt. Zion, Laurel Heights, MCB, SFGH, VAMC, Marina Blvd/Sierra Point and Fresno. Come check in at the UC Walks table for your campus at the location below. You will receive the map for the walking route for your campus. After completing your walk, pick up your free shirt while supplies last!
Parnassus: Millberry Union Information Desk (500 Parnassus Ave.)
Mission Bay: outside entrance to Mission Hall (550 16th St)
Mt. Zion: outside entrance to Women's Health Center (2356 Sutter St.)
Laurel Heights: outside main entrance (3333 California St.)
Mission Center Building: outside main entrance
ZSFG: Wellness Center (2nd floor of Bldg 5 next to cafeteria)
SF VA Medical Center: outside main hospital entrance
8000 Marina Blvd: outside main building entrance
Fresno: employee parking lot
(*Please note: If you are located at another campus close by to one of the locations above, such as China Basin, 3360 Geary or 654 Minnesota, please feel free to walk to one of the UC Walks Day locations to get your t-shirt!)

Call for volunteers
There are a limited number of volunteer slots available at Parnassus, Mission Bay, Mt. Zion, Laurel Heights, Mission Center Building and ZSFG. If you are interested in volunteering for the full event (10:45am-1pm), please email .(JavaScript must be enabled to view this email address) with your preferred site(s). Volunteers will receive a UC Walks t-shirt and a $10 Amazon.com gift card.