Get to Know Wellness and Community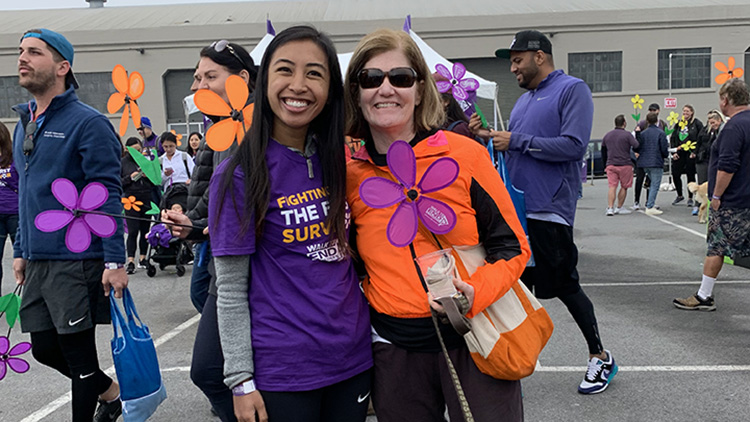 Wellness and Community's mission is to promote healthy work-life experiences for the UCSF community through our events and programs. We want you to have fun and be well!
Our vision to ensure everyone at UCSF has a balanced and healthy work-life experience. We make life better here at UCSF through our values of Wellbeing, Fun, Partnership, Connectedness, and Service.
Meet the Team
Kathleen Yumul – Wellness Program Manager
Kathleen Yumul has been with UCSF since 2015 and manages Wellness programming for Wellness and Community.
Kathleen's interest in health promotion blossomed during her time at UC Davis's Health Education and Promotion department where dressing up as a fruit or vegetable and educating students at farmers markets became an enjoyable weekly occurrence. Committed to supporting underserved communities and connecting to her Filipino culture, she also worked in free clinics in Sacramento, CA and San Francisco, CA called Bayanihan Health Center and Mabuhay Health Clinic. Kathleen started at UCSF on the Health side in 2015 and was the first employee of the Adult Referral Center which she then expanded to include the Cancer Services Referral Center. Wanting to get back to her interests in health promotion, Kathleen joined the UCSF campus side and the Wellness and Community team in 2019.
She is passionate about health, wellness, and self-care and loves working to help provide wellness resources to the UCSF community. She holds a Bachelor's of Science in Human Development and a Bachelor's of Arts in Psychology from UC Davis. She is currently pursuing her Masters of Public Health with a focus on Community Health Education from San Jose State University.
Favorite Snacks: I love Funfetti cupcakes, french fries, and brussels sprouts
Go to Wellness Activities: Yoga, Walking, Meditation, Hiking, and Journaling
Jennifer Mannix - Manager, Wellness and Community
Jennifer Mannix joined UCSF in 2004 and is the Manager of Wellness and Community.
Jennifer's passion for building community dates back to hosting carnivals in her backyard where she grew up in a small town in Upstate New York. Her joy in bringing people together brought her to Hyatt Hotels and just as the technology boom started, she relocated to San Francisco and joined Key3Media as the Housing Director for technology events. When she joined UCSF as the Arts and Events Manager it was a perfect fit. She had the opportunity to create community by infusing music, art and cultural celebrations throughout the campus. Wellness and Community has expanded its portfolio to provide wellness resources to the UCSF community. This expansion created an opportunity for the team to make an impact on the wellbeing at UCSF.
She is currently a member of the staff subcommittee for the Council on Campus Climate, Culture and Inclusion (4CI), as well as the co-chair of the Annual Chancellor's Staff Appreciation events. From 2016-2018, Jennifer served on the UC Council of Staff Assemblies.
Favorite Snacks: Fresh fruit and mini REESE'S Peanut Butter Cups.
Go To Wellness Activities: Sports participation (mainly tennis and golf) and attendance (especially the SF Giants). Jennifer is also a lover of all furry animals and enjoys walks and outings with her wife Susan and dog Sammy.