UCSF Staff Appreciation Events Are Held Throughout the Year!
---
Published on April 16, 2019
---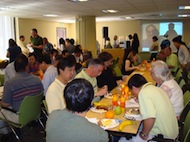 2019 Staff Appreciation Events
Wednesday, Apr. 24 - 8:00 am - 9:30 am, Laurel Heights - The View/Garden Room, 2nd floor*
Monday, Apr. 29 - 1:00 pm - 3:00 pm, ZSFG, location TBD
Wednesday, May 29 - 9:00 am - 10:30 am, Mission Center Building - Conference Room 126**
Employees are invited to enjoy food, entertainment, and prizes. Campus leaders will be on hand to greet staff at each location. These year-round celebrations aim to recognize the dedication and service of our staff and are the result of collaborative efforts between the campus and UCSF Health.
Employees working at locations not listed above are invited to attend celebrations at the following locations:
*Employees from 3360 Geary, 3490 California, and 515 Spruce may attend the Laurel Heights event.
**Employees from 1930 Market, 982 Mission, 2300 Harrison, 2727 Mariposa, and Buchanan Dental Clinic may attend the Mission Center Building event
For more information, email .(JavaScript must be enabled to view this email address)