[Cancelled] The Chancellor's Concert Series
---
Published on March 02, 2020
---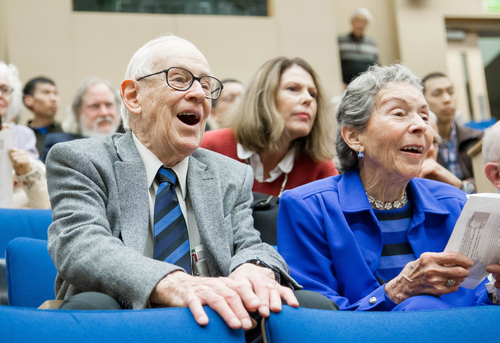 The Chancellor's Concert Series is a professional classical music series founded in 1998 to enrich the quality of life of the UCSF Community. Performing artists are members of the San Francisco Symphony, San Francisco Opera, faculty of the San Francisco Conservatory of Music, San Francisco State University, Stanford University, Crowden School, and their collaborators.
This series is made possible by UCSF Campus Life Services Wellness & Community, as well as audience volunteers and donors.
Donations are gratefully accepted.
Please, go online to tiny.ucsf.edu/donate

Do you miss the Chancellor's Concert Series at UCSF? If you do then check out the Chamber Music Society of Lincoln Center and listen to a concert from your home.

UCSF Chancellor's Concert Series 22nd season (2019-2020)
Cole Hall Auditorium, 513 Parnassus Avenue.
Seating begins at 12:00 p.m.
The concerts are FREE and there is free food while supplies last (first come/first served).

Spring Quarter
Thursday, April 13, 2020
CANCELLED - Tilden Trio (Sarn Oliver, violin; Peter Wyrick, cello; June Choi Oh, piano)
Ravel: Trio in A minor for violin, cello and piano

Wednesday, April 29, 2020
CANCELLED - The Ives Collective with pianist Robin Sutherland
Faure's "Piano Quartet No. 1"
Winter Quarter
Wednesday, January 29, 2020
Lee Trio
Beethoven: Piano trio in D major, Op. 70, No.1, "Ghost"
Monday, February 24, 2020
Dan Carlson, violin; Britton Day, piano
Prokofiev: Violin Sonata No. 1 in F minor, Op 80
Thursday, March 19, 2020
CANCELLED - Andreas Klein, piano
Beethoven: Piano Sonata No. 31 in A flat major, Op. 110
Fall Quarter
Wednesday, September 11, 2019
Alexander String Quartet
Beethoven: Quartet in E Minor, Op. 59 No. 2, "Razumovsky"
Monday, October 7, 2019
Members of the San Francisco Symphony
Helen Kim, violin
Keisuke Nakagoshi, piano
Mozart: Violin Sonata in E Minor
Debussy: Sonata for Violin and Piano
Monday, November 4, 2019
Members of the San Francisco Symphony
Dan Carlson, violin
Amos Yang, cello
Elizabeth Schumann, piano
Ravel: Sonata for violin and cello
Respighi: Adagio and variations (cello and piano)
Monday, December 16, 2019
Tilden Trio
Sarn Oliver, violin (San Francisco Symphony)
Peter Wyrick, cello (San Francisco Symphony)
June Choi Oh, piano
Ravel: Piano Trio