Chancellor's Staff Appreciation Events
---
Published on October 17, 2019
---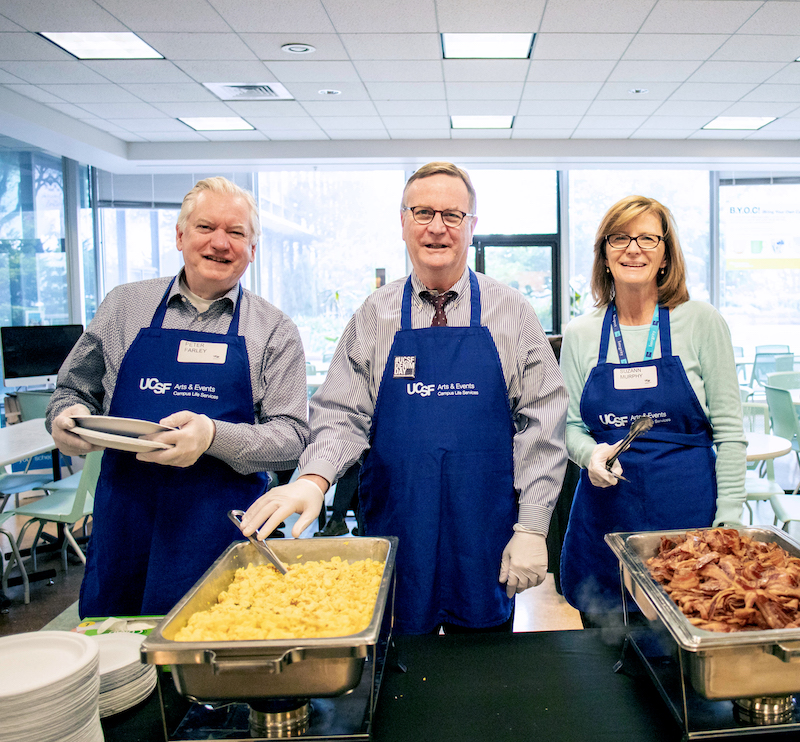 The Chancellor's staff appreciation events are here to thank you for your contribution to the UCSF Mission: making UCSF the leading university dedicated to advancing health worldwide through preeminent biomedical research, graduate-level education in the life sciences and health professions, and excellence in patient care. Without your efforts, our mission would not be possible.
Review the schedule below and select the venue closest to you. Come start the day with fellow employees and enjoy a breakfast with Campus Leadership. Simply join and enjoy the experience! Curious to know if your number won from attending Parnassus, Mount Zion or Mission Bay? Find out how to claim your prize. Deadline to claim prize is January 2020.
UCSF I.D will be required for entrance to all location sites.
In addition to the morning appreciation events, scroll down to discover more staff appreciation events and opportunities.

Thank you,
The Chancellor's Staff Appreciation Planning Committee

Monday, December 02, 2019
8:30-10:00AM
Laurel Heights, The View Café/Garden Room
Wednesday, December 04, 2019
8:00-10:00AM
Mission Center Building, Conference Room 126
Friday, December 6, 2019
6:30-10:30AM
Parnassus, Moffitt Cafe
Did you win? Find out how to claim your prize.
Thursday, December 12, 2019
6:00-8:30AM
Benioff Children's Hospital Oakland, Friendly Café
Friday, December 13, 2019
7:30-9:30AM
Mount Zion, Mount Zion Café
Did you win? Find out how to claim your prize.
Tuesday, December 17, 2019
6:30-10:30AM
Mission Bay Hospitals and Campus, Oberndorf Auditorium
Did you win? Find out how to claim your prize.
Friday, January 24, 2020
7:30-9:00AM
UCSF Fresno
Wednesday, April 29, 2020
1:00-3:00PM
Zuckerberg San Francisco General, Building 100 Courtyard

Discover More Staff Appreciation Opportunities & Events:
UCSF Fitness & Recreation Centers
7-Day Free Trial & Enrollment Discount
December 2-13
UCSF Winter Discount
Columbia Sportswear Company
December 6-January 1
The Chancellor's Concert Series
The Tilden Trio
December 16
UCSF Night
Golden State Warriors
December 27, January 14, February 10
UCSF Night
The Harlem Globetrotters
January 11
The Chancellor's Concert Series
The Lee Trio
January 29
UCSF Night
SpongeBob SquarePants: The Broadway Musical
February 16
The Chancellor's Concert Series
Violinist Dan Carlson and a pianist Britton Day
February 24