Staff RCO Spotlight: Psychedelic and Entheogen Academic Council
---
Published on April 05, 2021
---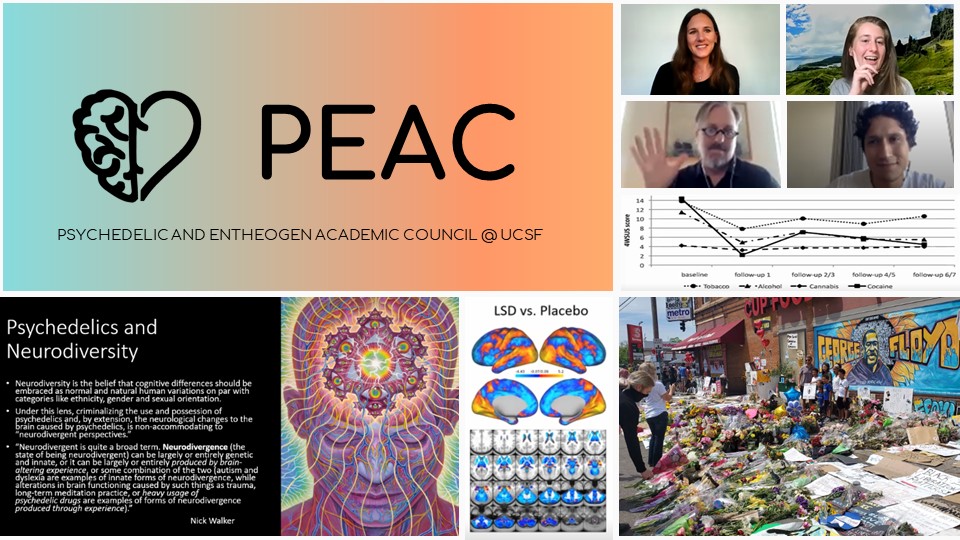 How long has Psychedelic and Entheogen Academic Council (PEAC) been a Staff RCO?
PEAC has been a Staff RCO since 2016 formed by Jessica Nielson, PhD; Brian Anderson, MD; Emily Williams, MD; Chris Stauffer, MD; and Joe Zamaria, PhyD.
First, PEAC would only meet informally to discuss psychedelic science and projects at UCSF. In the following years, Jae Sevelius, PhD; Christine Milentis; Phillip Perl, Catriona Miller; Jordie Martin; and Larissa J. Maier, PhD, joined the leadership team to organize journal clubs and in-person lectures at UCSF. As a result of the restrictions related to COVID-19, PEAC moved online and Larissa initiated the PEAC Weekly Meetings via Zoom that are open to the public. The PEAC Weekly Meeting Notes 2020 provide an overview of the 30 meetings hosted in 2020. All recordings are available on request.
After attending a few of these meetings, Andrew Penn, RN, MS, NP and Francisco Villegas joined the PEAC Leadership Team. PEAC has currently 99 registered members at UCSF and 4,593 followers on Facebook. In March 2021, the first PEAC Newsletter was sent out to 236 people who asked to receive our updates.

Why did some of your member join PEAC?
All members of the PEAC Leadership Team share a passion for bringing people together and building community to increase health, well-being, and liberation. Larissa has conducted numerous global survey studies to assess motives for and patterns of use of psychedelics including microdosing and self-treatment. She is a strong advocate for safe spaces for psychedelic exploration beyond the clinical setting to increase equitable access to healing.
Catriona is extremely interested in studying treatments for psychiatric disorders as well as investigating their underlying neurobiological mechanisms. She has been the Lead Clinical Research Coordinator and Project Manager for various trials to evaluate the safety and efficacy of psychedelics when used in combination with psychotherapy.
Andrew is an adult and psychiatric nurse specialist who also was a study therapist in the MAPS Phase 3 Trial on MDMA-assisted psychotherapy for PTSD. Inspired by PEAC, he co-founded the Organization of Psychedelic and Entheogenic Nurses (OPENurses).
Francisco enjoys the multi-disciplinary aspect of PEAC. He wants to help people who are working in the field of psychedelic science to connect with each other and point other students who are interested in the right direction.
What is the mission of PEAC?
PEAC connects researchers, clinicians, practitioners, and students interested in psychedelic science with each other and with the international community to socialize on individual, cultural, creative, and intellectual levels while fostering a sense of belonging and community.
PEAC provides an inclusive and safe space for communication and respectful dialogue about the most recent findings and trends in the field of psychedelic science.
PEAC defines diversity as a strength and is committed to present a variety of different perspectives on psychedelic science and policy. PEAC stands in solidarity with Black Lives Matter and will contribute to amplifying Black voices. We oppose racism and the systemic oppression of minority groups in all forms.
PEAC facilitates dialogues that matter to encourage people to support each other with an open heart and humility. With our initiative, we make research on psychedelics accessible for everyone to inform future research, policy, public education, and harm reduction.
What is PEAC working on this year that you would like to share?
PEAC has launched the new series of the PEAC Weekly Meetings 2021 and everyone can join our meetings on Thursdays at 12 pm PDT.
What are some programs or events PEAC has provided in the past?
Before the pandemic, PEAC hosted journal clubs and lectures at UCSF. In 2020, PEAC hosted 30 meetings on Zoom reaching hundreds of people worldwide. Half of the guests we featured were women, and our audience was diverse and interdisciplinary throughout the inaugural series.
What would you say to someone who is thinking about joining PEAC?
Do you want to learn more about psychedelic research conducted at UCSF and internationally or are you interested in other forms of psychedelic support? PEAC features the most recent developments in psychedelic science and policy and shows you how to get involved.
Would you share some fun facts about the PEAC or group officers?
PEAC has initially been registered as a staff RCO to reserve rooms for lunch meetings among friends. Over the years, PEAC has evolved from small and intimate lunch circles to lectures in filled auditoriums and virtual gatherings that engage a large and diverse international audience.
How can someone join PEAC?
People at UCSF can sign up for the PEAC Membership via CampusGroups. Everyone else can join our mailing list, follow us on Facebook, or send us an .(JavaScript must be enabled to view this email address) to keep in touch.
If anyone has any questions, who should they contact?
.(JavaScript must be enabled to view this email address)
These answers were provided by: PEAC Leadership Team – Larissa J. Maier, PhD, Postdoc at the UCSF Department of Clinical Pharmacy; Catriona Miller, Clinical Research Coordinator at UCSF Department of Neurology Andrew Penn, RN, MS, PMHNP, Associate Clinical Professor at the UCSF School of Nursing and Attending Nurse Practitioner at the SF VA; and Francisco Villegas, PharmD Student.