Staff RCO Spotlight: Women In Technology
---
Published on December 01, 2020
---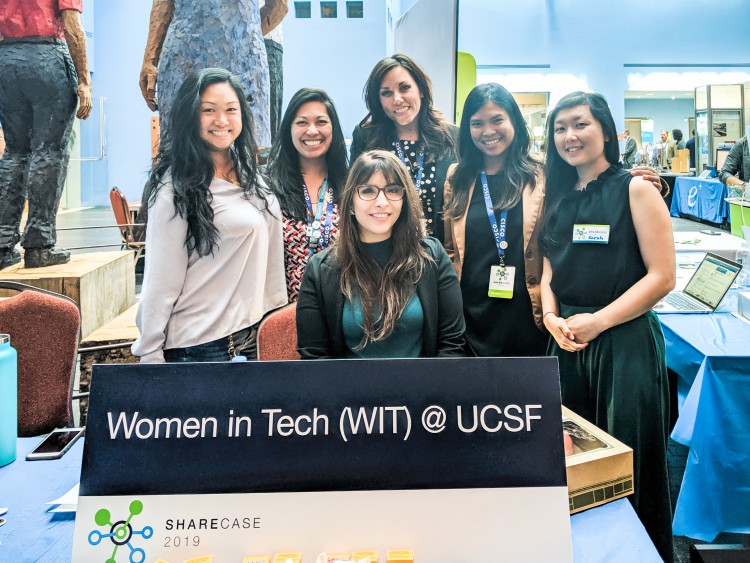 For this inaugural Staff Registered Campus Organization (RCO) Spotlight Q&A, we asked Women In Tech, more commonly known as WIT@UCSF, to answer a few questions.

Why did you start WIT@UCSF?
In Fall 2018, UCSF's Diversity and Inclusion Staff Certificate Program convened a group of four women for on-going discussion and collaboration based on their job roles in technology. For their final capstone project, what initially had been a casual idea for a Women-in-Tech podcast quickly evolved into a much larger initiative, specifically devoted to building a community for women technologists with aims to address the gender gaps within the UCSF tech community.
Ana Buenaventura, Kathleen Grusenki, Suria Sadat, and Alyssa Tecklenburg continued to meet outside of the certificate program and formally presented the Women in Tech at UCSF (WIT@UCSF) group to key IT partners. On January 9, 2019, the group successfully kicked off its first event with enormous support from about 100 community members. WIT@UCSF continues to be a member-led organization with plans to expand broadly in the years to come.

What is the mission of WIT@UCSF?
WIT@UCSF aims to promote a community for women technologists that will foster support and collaboration, increase retention and advancement, enhance innovation, and improve performance and quality of decisions in service to the University. WIT@UCSF is open to people of all genders.
Our goals are to engage and strengthen relationships with institutional leaders and colleagues within and outside UCSF to expand opportunities and eliminate barriers for underrepresented technologists. We intend to develop a central hub for WIT-related resources to create awareness and transparency. This also allows us to establish a peer-to-peer network, mentorship, career pipeline, and opportunities. We look forward to being an advocate for continued professional development.
What is WIT@UCSF working on this year that you would like to share?
We have learned how to transition in-person events to the virtual world. Our programming has pivoted to Zoom Tech cafés (various tech topics), workshops (resiliency), networking (Coffee Chats), and collaboration with the larger UC WIT community. We'll also be planning our second birthday party!

How can someone join this WIT@UCSF?
Anyone can join by filling out an intake form via our website. By joining, you'll stay up to date with news and events and be connected with our community.
What are some programs or events your Staff RCO has provided in the past?
Our events are posted on our website. Examples of past events are Lunch & Learns, collaborations with the library (MakersLab), Tech Café sessions, resiliency workshops, and networking (Coffee Chats). (pre-COVID and during). You can find recordings on our Teams Resources (wiki).
What would you say to someone who is thinking about joining your Staff RCO?
By joining WIT@UCSF, you'll be connected to our diverse membership group, consisting of individuals with different levels of experience and areas of expertise in technology. Membership is open to people of all genders who work with or who are interested in technology.
If anyone has any questions, who should they contact?
.(JavaScript must be enabled to view this email address)
What's the first concert you ever attended?
Embodying WIT@UCSF, that concert would be Video Games Live. (See the concert trailer below)
Interviewees:
The leadership members of WIT@UCSF are Ana Buenaventura, School of Medicine Technology Services; Kat Li, Department of Medicine, Division of Hospital Medicine; Alyssa Tecklenburg, Department of Medicine, Central Administration; Sarah Ngo, Department of Medicine, Division of Geriatrics; Suria Sudat, School of Medicine, Graduate Medical Education Office.