Service Alerts
N Judah Bus Substitution & Road Closures at Parnassus Heights Starting Saturday April 13, 2019
SFMTA will substitute N Judah train service with bus shuttles starting Saturday, April 13, for approximately two weeks in the Inner Sunset and Sunset neighborhoods.
Additionally, vehicle traffic on Irving Street will be impacted, and occasional street closures are expected. Parking patrons are advised to access the Millberry Union Garage via Parnassus Avenue. UCSF shuttles may be delayed.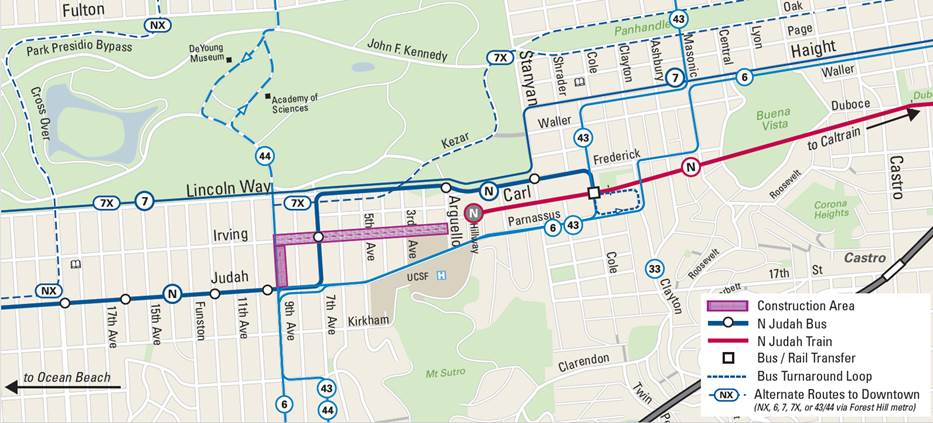 N Judah Bus Substitution
During this time, N Judah train service will stop on Carl Street at Hillway Avenue, at the far east corner of the UCSF Parnassus campus. To reach stops west of Carl and Hillway, passengers must transfer at Carl and Cole streets.
Passengers heading to the UCSF Parnassus Campus on MUNI should:
• Transfer to the 43 Masonic or 6 Parnassus buses at Carl and Cole streets; or
• Exit the train at Carl & Hillway**, then walk one short block along Carl Street.
**Please note, the stop at Hillway is not accessible to passengers needing level boarding. Carl and Cole is the last accessible stop on the N Judah train.
For specific details on the N Judah bus substitution, please visit: SFMTA.com
Intermittent Road Closures & Impacts to Garage Access
To accommodate the construction activity, two streets will be intermittently closed to automobile traffic:
• Irving between Arguello and 9th Ave
• 9th Ave between Irving and Judah
Work hours are 8am to 5pm on weekdays and 8am to 6pm on weekends. Please heed flaggers and detours.
Parking patrons are encouraged to access the Millberry Union Garage via Parnassus Street.
The ACC Garage entrance will be accessible during this time. We recommend building extra time into your commute, as delays are expected in accessing the garage.

SFMTA's Inner Sunset Streetscape Improvement Project
The temporary bus substitution is required in order to support SFMTA's Inner Sunset Streetscape Improvement Project that features transit, infrastructure and street safety design improvements including upgrades to the intersections for safer pedestrian crossing, installation of accessible stops for people in wheelchairs, transit bulbs, stop consolidation and road pavement in the Inner Sunset along the N Judah Line from Arguello Boulevard to 9th Avenue.
For more information, visit: SFMTA Inner Sunset Streetscape Improvement Project
UCSF is sharing this information about this SFMTA project as a courtesy to the UCSF community, and dates and activities are subject to change.
Passenger safety and convenience are our top priorities. Transportation Services invites you to use this page as a resource to get latest info that may impact your commute, including shuttle stop changes and ways to stay safe going to and from work.