Biking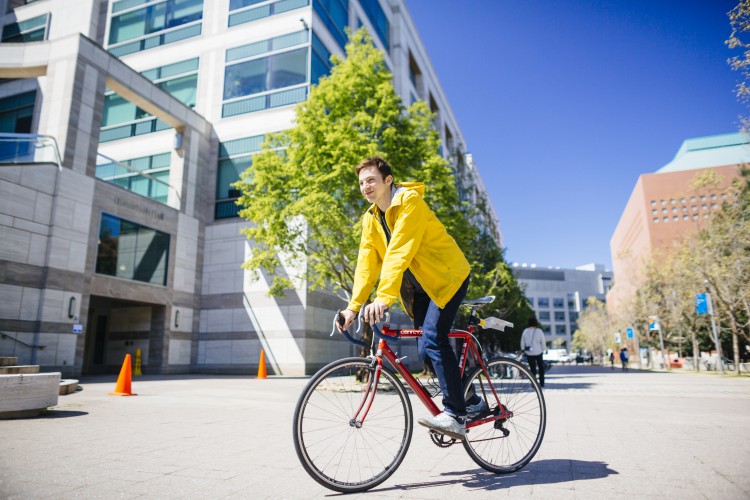 Congratulations UCSF Bikes! 3rd place UCSF winner in the Cool Campus Challenge
UCSF Bikes! achieved the 3rd highest team score at UCSF, with a whopping 180,202 points.
Through the collective actions and pledges, they saved 85,763 lbs of CO2 – a major step towards promoting a healthier planet for healthier people. These sustainability efforts, in addition to the everyday work, are important contributions to UCSF's 2020 Zero Waste and 2025 Carbon Neutrality goal and the mission of advancing health worldwide.
How-to: Commute Bike Group Rides with Folks on Spokes
Interested in finding the safest routes to get to and from UCSF Mission Bay Campus? Bike Pool with UCSF colleagues who will show you the 'how to' on how to commute. Ride with others to build confidence and learn bicycle commuter best practices.
Riding events by location:
Castro / Mission to UCSF Mission Bay: Saturday, May 25 Castro / Mission to UCSF Mission Bay, 11:00am, meet at Maxfield's House of Caffine, 398 Dolores St.
Mission Bay to Embarcadero: Wednesday, May 29, from Mission Bay to Embarcadero featuring Happy Hour! Meet in front of Mission Hall, 4:45pm - departure at 5:00pm.
Resources to support the cyclist in you:
For more information, contact:
Georgina Arias, Transportation Demand Manager
(415) 514-2966
.(JavaScript must be enabled to view this email address)