Scoot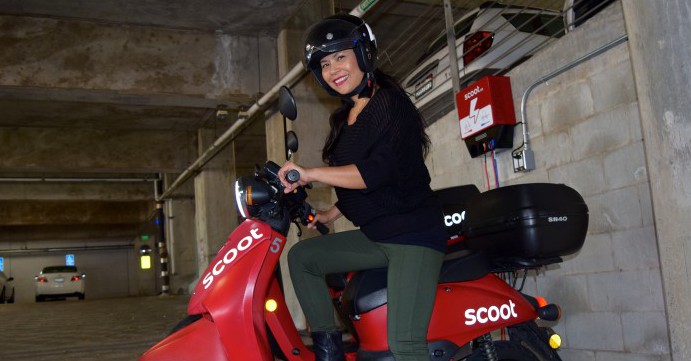 UC San Francisco Transportation Services has partnered with Scoot to provide another form of alternative transportation between campuses and around town for the UCSF community.
Scoot is a green, sustainable, alternative personal transportation option in San Francisco. If you're over 21-years-old and have a standard driver's license (no motorcycle license needed), you can rent electric mopeds ("Scoots") from two campus locations (Parnassus and Mission Bay). Scoot members with a Flex Plan can rent a scooter for $3 for a 30-minute ride, non-members can rent for $4 for 15 minutes.
Here is a short video showing how Scoot works. Scoot also offers free in-person classes to learn basic riding skills or if you need a refresher lesson before you get Scooting.
Scoot allows one-way or round trips so you can commute, run errands, or return to your starting point. Scoots come equipped with two helmet sizes and you use an app on your smartphone to turn Scoots on and off, as well as select your pick-up/drop-off location or garage. New Scoots are completely keyless because the Scoot app is the key.
Scoot riders have taken more than a million miles of zero-emission trips within San Francisco since it was founded. Scoot is excited to provide UCSF another eco-friendly option for getting around the city.
UCSF Transportation Services has two Scoot pod locations. They include the Millberry Union Garage, Level P7, at Parnassus and at the Mission Bay Campus Community Center, Rutter Garage, Level P1. Both locations are live and ready for use.
Sign up by going to http://www.scoot.co/UCSF.