Chariot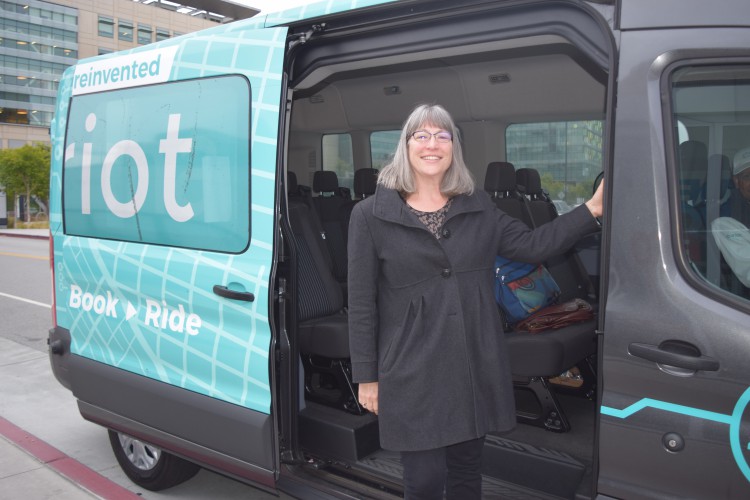 UCSF partners with Chariot to serve employees commuting from the East Bay
Chariot now offers convenient routes across the Bay Bridge from Oakland and Berkeley/Emeryville to Mission Bay to serve UCSF employees, faculty, and students commuting from the East Bay. This is a pilot program, funded in part by a grant from the Metropolitan Transportation Commission in an effort to ease congestion on the Bay Bridge.

Get on board to reduce your transit costs and enjoy a stress-free commute. To ride Chariot:
• Download the Chariot app
• Sign-up with your UCSF email
• Reserve your pick-up time and location
New to Chariot? Your first 3 rides are on us!
Use code: WELCOMEUCSF
The standard UCSF introductory rate is $5.00 per ride (one-way).*
A monthly pass is available for $200 per month.
Upcoming Holiday Schedules
Chariot will not provide service on the following dates. Please make alternative transportation plans on these days.
• Veterans Day - November 12, 2018
• Thanksgiving Break - November 22-23, 2018
• Winter Holiday - December 24-28, 2018
• New Year's Eve - December 31, 2018
• New Year's Day - January 1, 2019

East Bay to Mission Bay Routes
Please check the Chariot website for the most up-to-date schedules.
Oakland to Mission Bay
Stops in Oakland
• 2005 Pleasant Valley Ave, Oakland
• 166 Ridgeway Ave, Oakland
• 451 Perkins Street, Oakland
Emeryville/Berkeley to Mission Bay
Stops in Berkeley and Emeryville
• 1625 Shattuck, Berkeley
• 2800 Park Street, Berkeley
• 6101 Christie Ave, Emeryville
Stop at UCSF Mission Bay
• UCSF Medical Center at Mission Bay Shuttle Stop
Located on UCSF's North Connector Road, 100 feet south of the intersection of 16th and 4th Streets.

Currently, UCSF employees who work at Mount Zion, Parnassus Heights, Mission Center Building, or Laurel Heights can ride Chariot to Mission Bay, and then transfer to a UCSF shuttle.
Recent Route Changes
Chariot began service from the East Bay to UCSF Mission Bay in June 2018. Service expanded to Mount Zion in October, but was discontinued Nov. 30, based on ridership data. Please review the most current timetables on the Chariot website. We hope that there is a Chariot that works for your schedule. We are planning a phased approach to grow this service as future demand dictates, and we will continue to study demand at Mount Zion and Parnassus Heights. There will be additional updates coming in 2019, stay tuned!
Both the Mission Bay and Mount Zion locations were chosen due to the proximity to Kaiser. As part of the MTC grant, these Chariot routes are also available to Kaiser employees.
For more information, view the UCSF Chariot FAQ.
*This is a pilot program funded in part by the Metropolitan Transportation Commission. Routes, frequency of service, and prices subject to change with advance notice after pilot.
UCSF Transportation offers many options for those who want alternatives to driving and parking on campus. Discover more solutions for your commute at MyCommute.ucsf.edu.