UCSF Named One of the Best Universities for Commuters
---
By Sophia Labeko on March 05, 2020
---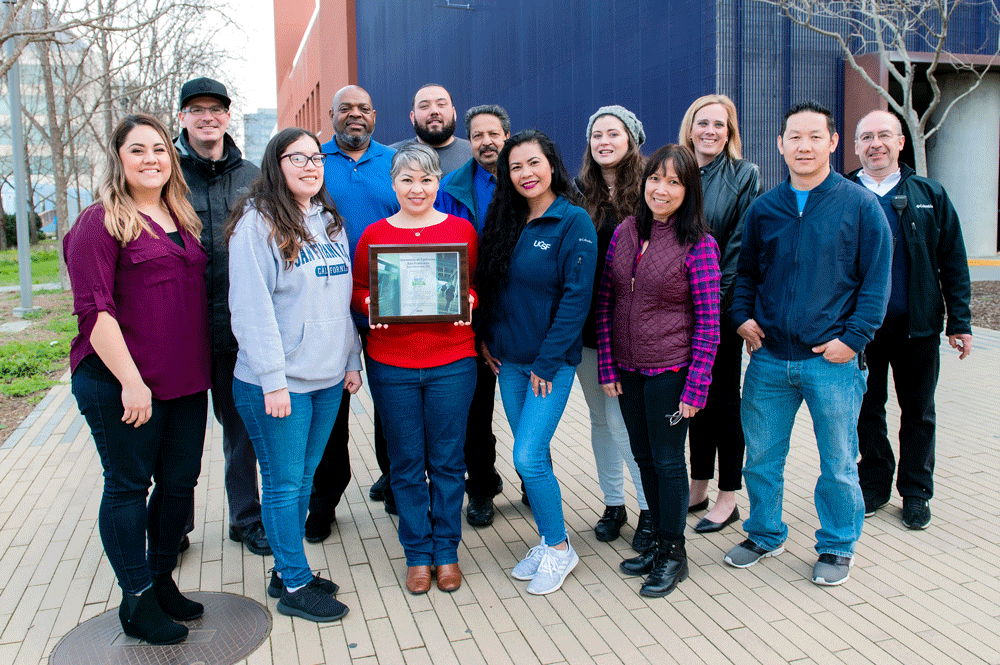 The National Center for Transit Research recognized UC San Francisco as one of the Best Universities for Commuters, 2020. This annual award is given to organizations that meet National Standard of Excellence's rigid criteria to provide high level commuter benefits and resources. UCSF Transportation is accepting the award for providing benefits that "promote energy conservation by reducing traffic congestion and related air pollution."
"It's wonderful that UCSF has received this recognition. We strive to provide our patients, visitors, students and staff with a variety of sustainable transportation options. As our campuses grow and the Bay Area densifies, it's important for those who have flexibility try a new way of commuting," Georgina Arias, Transportation Demand Manager.
Georgina focuses on providing options to commuters who are looking for alternatives to driving alone and parking on campus. Her efforts improve traffic congestion and lessen environmental pollution, which aligns with the UCSF's commitment to sustainability.
Besides offering free shuttles to its employees, students, and patients, UCSF Transportation has an array of travel options. Novice and seasoned commuters should start all of their journeys by visiting mycommute.ucsf.edu to see custom travel options, from public transit to nearby carpools. There're more than 20 UCSF-sponsored vanpools that commute from all over the Bay Area to UCSF campuses. For smaller groups, carpool is a great alternative. Do you prefer to feel the breeze? Rent an electric scooter – a sustainable, single person occupancy vehicle. You can learn more about UCSF's alternative transportation programs at transportation.ucsf.edu.
En route to making sure commutes are simple and eco-conscious, it sure feels good to receive a national recognition.