"I am #UCSFProud" Meet Guillermo Zaldana
---
Published on February 05, 2020
---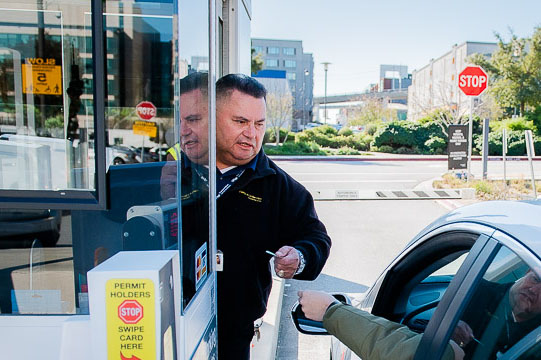 If you've parked your car at the Medical Center in Mission Bay recently, there's a good chance you already know Guillermo.
On most mornings, you'll find him in the cashier booth, collecting parking fees from motorists, while also pointing patients and visitors in the right direction to find parking and appointment locations.
"I'm proud of my job because UCSF is such a well-recognized institution."
Guillermo admits he likes to brag about where he works.
"Guillermo does a great job of giving information to visitors," said Tim McNeil, parking operations manager who has worked with Zaldana for years. "He is very dependable and responsible."
When he's not at work, Guillermo enjoys camping with his family. "It keeps us connected and helps us get away from all the distractions like cell phones, TV, and video games. I enjoy having a few days of nothing but family and nature." A Bay Area resident since 1982, Zaldana currently lives in the East Bay.