Part II: Caring for Our Customers
---
By Sophia Labeko on June 09, 2020
---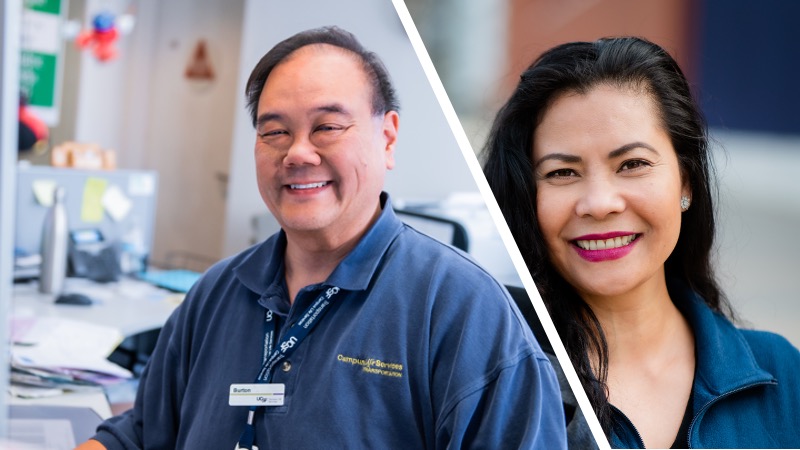 In part two, we shine the light on team members who provide customer service at our service centers and handle parking inquiries. In case you missed it, read part one about the shuttle support team.

Since mid-March, parking operations changed significantly. Amidst a rapidly changing environment, our customer care team rose to the occasion. Burton Lau (pictured left), Karla Quintanilla, Doris Sorto, Zenaida Valledor (pictured right), and Marcela Zuluaga provided assistance to UCSF staff, students, medical professionals, and patients with empathy, grace, and aplomb. 
Our customer care team addressed many parking questions and concerns, by phone, by email, and in-person when our offices reopened at Parnassus Heights and Mission Bay in May. We're thankful for their expertise, compassion, and commitment to keep the UCSF community aware of our services during times of change.
As we gear up for permit renewals – our busiest time of the year! – we checked in with the team to hear their stories and share the bright spots. They are experts in all things transportation, which comes in handy, as sometimes they get questions like "do I need a car in San Francisco?"  
A few months ago, Burton received a call from a new-to-San-Francisco UCSF Health doctor, who recently moved from our smallest state, the one by the ocean, Rhode Island. If you've never been to Rhode Island, to paint you a picture of its scale–it's possible to drive across the entire state in 30 minutes. Here, in San Francisco, one can't even drive across the city in that time. The person called to ask about transportation infrastructure. He needed advice on whether or not to buy a car, and where to park, and what that's like, and how to get around the city, and where to live. Bottom line–he was new to the area and needed guidance stat. 


Burton knows the city like the back of his hand, answered the call, shared tips, resources, experiences, and knowledge. He told him about different neighborhoods and how accessible the East Bay is. He reassured him that if he doesn't get a car, there are other options for getting around. The UCSF shuttle system connects us with a large part of the city. Lastly, Burton was simply there for a person who needed comfort and peace of mind. 


Serving the campus and the Medical Center comes with the good and the bad. It's very important to remember that sometimes the team cares for people who have suffered the loss of a loved one and the last thing on their mind is parking. They encourage unity, understanding, and compassion. Remembering that we're all humans and to treat each other with respect and care.