The Privilege of Biking
---
By Sophia Labeko on September 15, 2020
---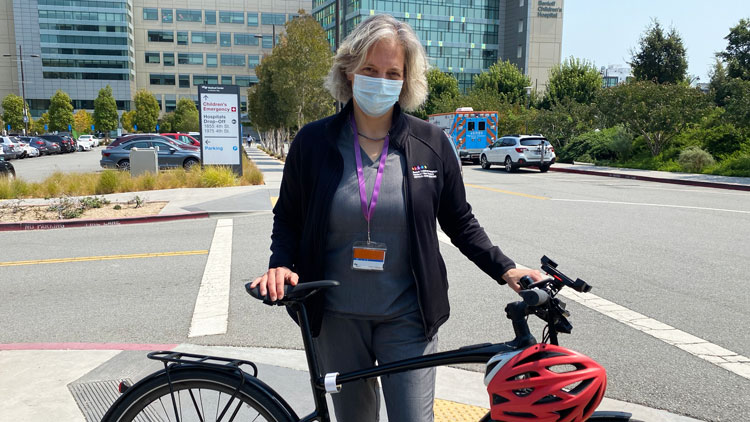 Maude Dull, MD, starts her day bright and early by pedaling five miles to Mission Bay where she works as an attending physician at the Division of Pediatric Critical Care. She takes care of children in transitional care–those who come out of the ICU or those who experience medical complexities and require technology to survive.
Dr. Dull bikes to work to energize for the day and from work to wind down, "I'm a lot calmer when I get home." She rides a beautiful black bike with just the necessary gadgets on the handlebar. It's electric, which she calls a "cheater bike" but we say that counts. At 50, she's experiencing some arthritis and that little assistance from the motor alleviates the pressure from being put on her knees.
Most days, her commute takes 32 minutes–from jumping on to locking her bike in the bike cage. Some days she takes a slight detour and treats herself to a brisk ride by the Marina or to Twin Peaks to watch the sunrise.
Though an experienced rider, when Dr. Dull decided to bike as her primary method of transportation, she took a class on urban cycling to solidify her knowledge and learn from the experts. She also makes sure to obey traffic laws, wear a helmet and bright reflective gear, and use proper lights.
If you're interested in the urban cycling course check the UCSF Transportation bike page.
When she has to dress nicely for work, she takes the Grey shuttle, but overall, she's satisfied with riding her bike and says, "UCSF does an amazing job providing alternative transportation."
She views her ability to bike places as a privilege.
"Not having a car is a privilege, because I live in the city and that's a privilege. It's an opportunity to not add to global warming, to environmental, traffic, and safety risks of having a lot of cars in urban centers. To me, that's really important. Not everyone should give up their cars, but I have this opportunity and I really enjoy it."
To date, she's cycled 4,500 miles. How far is that? If she was peddling north-east, she'd be somewhere between Iceland and Ireland.
Needless to say, Dr. Dull is participating in the Bike to Work, or Wherever Day, which is happening Thursday, September 24. Are you?
Novice riders, learn the basics by attending the Intro to Biking in San Francisco with Spare the Air Team webinar. More details on this and on the virtual Bike to Work Day celebration on the UCSF Transportation bike page >> .