Patients Applaud Ticketless Valet Service
---
By Arleen Bandarrae on August 24, 2021
---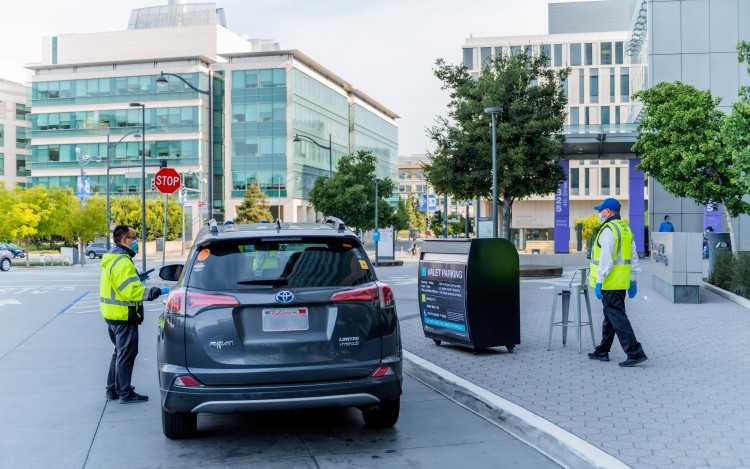 With Transportation's new ticketless valet technology, patients no longer have to worry about losing their ticket. They can now pay for parking and request their car using their mobile phone from any location, eliminating curbside wait time and a stop at the cashier booth.
In the past, patients pulling into the valet received a paper ticket. Now, patients provide their cell phone number to receive a welcome text message—a virtual ticket of sorts. And, an actual ticket is also available, if needed.
Since launching at the UCSF Medical Center at Mission Bay in July, feedback shows patients love the ticketless system. Ninety-five percent of patients gave a 5-star review, noting extreme satisfaction with the new technology. Plus, most patients are taking advantage of the added convenience of paying for parking with their phone.
For staff, one of the biggest advantages is the ability to communicate directly with patients and visitors.
"Communication with patients is key," said Director of Parking Joe Braucher. If a patient accidentally takes their keys, or unexpected stays overnight, the valet staff can connect with the patient via text message and provide helpful information, like instructions for after-hours vehicle pick-up.
Plus, now that everything is electronic, valet staff can use a handheld device to take a picture of any vehicle damage upon entry for reference. This had been a time-consuming manual process in the past, along with manually recording arrival times and sharing that info with cashiers.
"It's a win-win, creating greater efficiency for both our patients and our staff," said Parking Supervisor Yat Cheung.
Following the hugely successful launch in Mission Bay, the ticketless valet system was rolled out at the UCSF Medical Center at Mount Zion and at Parnassus Heights in August, and will be followed by all valet locations in the coming months.