Biking & Micromobility: A Road to Health and Sustainability
---
Published on September 08, 2022
---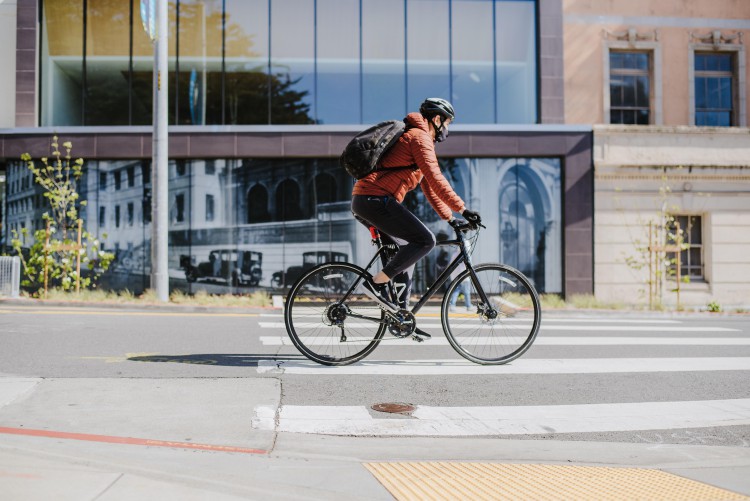 UCSF is working on a long-term plan to revitalize its oldest campus at Parnassus Heights with a state-of-the-art hospital and academic research building to continue to drive innovations in care delivery and health sciences.
As the University builds for the future, it plans to grow as responsibly as possible, building sustainable practices into UCSF operations, including how people travel to and from UCSF campus locations. It is this commitment – coupled with an imperative to provide a modern environment for the UCSF commuters who already ride a bike or scooter – that led to the creation of UCSF's first Bicycle and Micromobility Plan. The plan addresses both human-powered and electric bikes and micromobility vehicles such as scooters and skateboards. The plan helps the University manage anticipated growth at UCSF campus sites and to help people evaluate their commute options as they return to on-site work and learning.
"As UCSF continues to grow, our role to encourage and expand sustainable commute options like biking and micromobility will be more important than ever," says Gail Lee, director of Sustainability.
More than 10,000 learners, staff, and faculty (about 43 percent of the total campus population) live within five miles, or a 30- to 40-minute ride on a standard bike, of UCSF's main campuses (Parnassus Heights, Mission Bay, and Mount Zion). Many more commuters reside within a bikeable distance of regional transit, such as BART, Caltrain, and ferry, further adding to the potential for biking or micromobility to provide first and last mile connections to transit.
UCSF engaged the internal community to play a prominent role in the development of this plan. Ideas and insights were incorporated from more than 850 survey respondents. The plan also was guided by a Coordination Committee comprised of about 20 UCSF stakeholders from various departments. The City and County of San Francisco and peer institutions also provided guidance, best practices, and lessons learned. Following a review of existing conditions, planned growth, and stakeholder feedback, the committee identified three overarching goals.
Goals:
1. Build a Safe and Connected Network
Recommendations for implementing safe bikeways to, on, and between campuses.
2. Support Sustainable Growth
Policy and programmatic recommendations tailored to address specific challenges expressed by campus stakeholders.
3. Create Recommendations for Reliable and Inclusive Bicycling and Micromobility Parking and Amenities
End-of-trip amenities include secure parking, showers, and lockers.
Each goal has recommended actions and a wide range of defined implementation details and tracking metrics.
The findings and recommendations have been shared with the San Francisco Municipal Transportation Agency (SFMTA) and San Francisco Recreation and Parks. UCSF will continue to coordinate with the SFMTA, to explore network connections to the University, as the City begins to develop its new Active Communities Plan.
Among the next steps in this process, UCSF will:
• Increase bicycle and micromobility education and communication regarding safety and security, parking locations, and end of trip amenities
• Coordinate with Bay Wheels to bring bikeshare stations closer to Parnassus Heights
• Implement UCSF's design standards for bicycle and micromobility parking and amenities in new buildings
• Create a package of improvement recommendations for the 2023-24 Comprehensive Capital Plan
"With slow streets, more bike lanes, and convenient bikeshare locations, there has never been a better time to commute by bike or scooter to UCSF. In particular, e-bikes make it possible for a lot more people to handle the hills of San Francisco, which has long been a barrier to bike commuting in the city. You can also take bikes on BART and Muni, further expanding your car-free reach! The built-in exercise, ability to stop at shops and restaurants along the way, and a closer connection to the city are all added benefits," says UCSF bicycle commuter Kang Sang-Mo, a professor of Clinical Surgery, and a member of the Bicycle and Micromobility Plan Committee.
Read the Bicycle and Micromobility Plan, and visit Transportation's Biking webpage to learn how you can start biking to campus today.