The Pub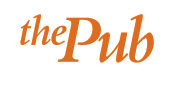 The Pub offers daily specials, hearty entrees, salads, sandwiches, and an array of beverages including Peets Coffee, California wines and specialty beers. The Pub provides both cozy ambiance and convenience.
Location
Mission Bay
William J. Rutter Center
1675 Owens Street
Click here for a Mission Bay map.
Menu
Download the breakfast menu
Download the lunch and evening menu

Catering
Did you forget to order lunch for the meeting? Come in today to check out our new catering menu for same or next day catering.
Download catering order form
Hours
Mon-Fri: 7:30 am-7:00 pm
(Closed Saturday and Sunday)
7:30 am - 10:00 am - beverages, morning pastries, hot breakfast items
11:00 am - 3:00 pm - lunch menu
3:00 pm - 6:00 pm - happy hour/evening menu
6:00 pm - 7:00 pm - beverages, grab and go salads, and sandwiches
Closed: Monday, September 2 - Labor Day
Summer BBQ every Thursday from 11:00 am - 2:00 pm.
Enjoy a summer BBQ on the terrace!
In August, enjoy Korean style BBQ short ribs and chicken thighs, Japchae noodle salad, spicy cucumber salad, jasmine rice and Korean rice punch (Sikhye) for only $16!
Purchase your BBQ ticket in The Pub!
Contact
415.514.4748

The Pub is a Bring Your Own Cup participant. Bring your own cup, order a coffee or tea (up to 16 oz.), and pay for a small cup.
Credit Cards and FastPay accepted here.