Cater
Events, conferences, meetings, and celebrations. Breakfast, lunch, dinner, light refreshments, or buffet reception, our participating UCSF catering partners are ready to serve you. They offer great food and convenient service whether you're hosting your event at Mission Bay Conference Center, the Millberry Union Conference Center, the Aldea Center, the Valley Conference Center, the Tidelands, or the UCSF location of your choice.
Catering During COVID-19
Events serving food and beverages require pre-packaged individually packaged items. UCSF restaurants listed below have made all the proper adjustments to comply with these requirements.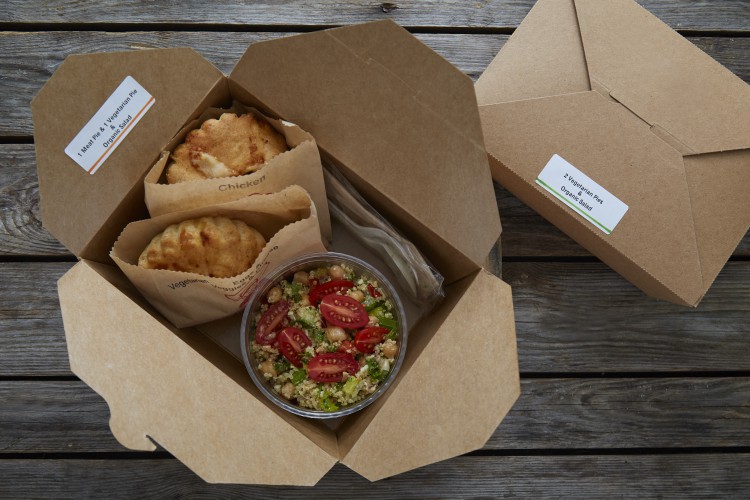 UCSF Restaurants That Offer Catering
Cafe Bellini: sandwiches, salads, pizzas, and burgers made with 100% organic and grass-fed beef and locally sourced ingredients. Tantalizing artisan cakes, tarts, pastries, and cookies, hand-crafted by top Bay Area bakers and pâtissiers.
Caffe Central: features a wide variety of food and beverage items including locally roasted, 100% organic coffee, delectable pastries, tasty salads and delicious sandwiches.
Carmelina's Cafe: Peet's coffee, pastries, sandwiches, and hot food!
Carmelina's Taqueria: fresh Mexican and Latin American cuisine, including tacos, burritos, enchiladas, quesadillas, nachos, and assorted daily specials.
Jamba Juice: better-for-you food and beverages, including great tasting fruit smoothies, hot oatmeal, wraps, salads, and sandwiches.
Ladle & Leaf: inspired by global food trends and sophisticated food pairings, they offer artful soups, sandwiches, grain bowls, and salads.
Moffitt Catering: Covid safe individual Bowls & Boxes and served buffets featuring locally sourced, seasonal organic ingredients for breakfast, lunch, and dinner – all prepared, delivered and staffed by your trained Moffitt Catering personnel. UC Departments may pay via departmental recharge and are exempt from sales tax. Supporting Moffitt Catering supports UCSF Services, the Mission of UCSF, your fellow UCSF Employees, and our departmental commitment to job preservation
Publico: started as a zero-emissions foodtruck, here you'll find taqueria favorites from burritos and tacos to quesadillas and tortas.
Panda Express: irresistible Orange-Flavored Chicken, fabulous Beef with Broccoli, and other innovative entrees with yummy sides.
Peasant Pies: handmade fresh every morning, they offer handheld size savory pies and sweet pies, as well as soups and salads.
SF Kebab: specializes in authentic Mediterranean cuisine such as gyros, wraps, kebabs, hummus, tabbouleh, couscous and more.
Subway: get fast and tasty sandwiches, wraps, soups, and fresh-baked desserts.
If you like what you see, there are two ways to place your order–through the individual restaurant's ordering system, which can be found on their website or through America To Go (ATG), accessible via MyAccess.
To see all restaurants and caterers available in the ATG Punchout, you may browse, a list of current caterers on the ATG website.
For more information, please contact Retail Services at 415.514.4743 or .(JavaScript must be enabled to view this email address)