Supporting a Healthier Campus - UCSF Retail Services
---
Published on October 18, 2018
---
We at Retail Services were so excited to read all of the great things UCSF is doing to support sustainability, that we've decided to share some of the recent efforts we've made in order to promote recycling, composting, and Going Greener across campus.

UCSF retail vendors at Parnassus and Mission Bay are making their own great strides in sustainability. Check out the latest in their efforts:
Carmelina's Taqueria
• All food wrappers are either recyclable or compostable
• The kitchen produces 80% less garbage than in previous years; cooks compost and recycle in the kitchen
Subway
• To date, sustainable packaging changes have saved 450,000 trees (nationwide)
• Since 2006, low-flow faucets have saved over 41 million gallons of water (nationwide)
UCSF Farmers' Market
• Now at Parnassus (year round) and Mission Bay (seasonal–April to November)
• Find locally-grown, organic fruit and vegetables, right here on campus
DID YOU KNOW? A typical carrot has to travel 1,838 miles to reach your dinner table. Buy local!
Peasant Pies
• Most of the furniture is made from salvaged lumber
• A 15% discount is given to customers who bring their own cups
• Soup and salad utensils and containers are made of 100% compostable material
The Pub
• Frying oil is recycled and turned into alternative fuel
DID YOU KNOW? The number of compostable plates and bowls purchased per annum for Moffitt Cafe is 983,500.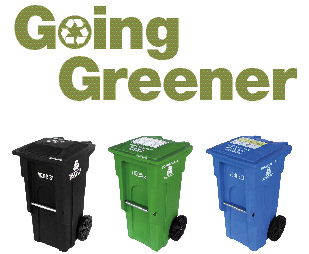 Be a part of Going Greener!
In direct alignment with UCSF's environmental sustainability efforts, Retail's "Going Greener" campaign added a new composting program to the existing recycling efforts. Dynamic signage was created to hang above each bin to direct patrons to the appropriate receptacle.
• Compost–food, paper, paper plates, napkins, milk/juice cartons, paper cups, tea bags and coffee grounds
• Recycle–plastic bottles and containers, straws, drink lids, soda cans, aluminum cans, foil, plastic bottle caps, glass bottles and jars
• Garbage–styrofoam, chip and snack bags, plastic bags, condiment packages, and plastic wrap
DID YOU KNOW? The average American produced 1,609 pounds of waste each year. Recycling, composting, and reuse can cut that waste stream by up to 75%.
Participating UCSF locations include: Millberry Union Food Court (Carmelina's Taqueria, Panda Express, and Café Bellini), Jamba Juice, Palio Paninoteca, Carmelina's Café, The View at Laurel Heights, Caffe Terzetto, Peasant Pies, Publico, Café 24, Subway, and The Pub.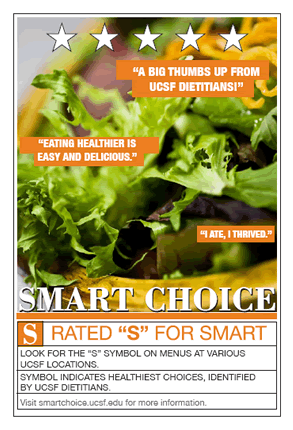 Smart Choice
Smart Choice, a wellness initiative for healthier eating, is a collaboration between Campus Life Services and UCSF Nutrition & Food Services, and was designed to promote healthy eating among UCSF retail food customers. Smart Choice standards were developed after careful review of the latest research, national healthy eating guidelines, and comparable programs. Smart Choice meals meet the following criteria: calorie controlled, low in fat, sodium, and cholesterol, and rich in nutrients, and are marked on menus with an orange "S" icon.
Participating UCSF locations include: Millberry Union Food Court (Carmelina's Taqueria, Panda Express, and Café Bellini), Palio Paninoteca, Carmelina's Café, The View, Subway, and The Pub.
Read more about Smart Choice.

Thinking Green - Tips and Ideas
• Carry a beverage mug–save paper and plastic and enjoy your own favorite mug
• Avoid products with lots of packaging–you can save 1,200 pounds of carbon dioxide if you cut down your garbage by 10%
• Buy in bulk and bring your own bag–one-third of garbage comes from packaging
• Buy food that's local and in season–supporting local agriculture helps conserve resources and reduces pollution
• Paper or plastic–Neither! Bring your own bags to the grocery store
For more about taking an active role in protecting our environment, visit http://www.sfenvironment.org.