Proof of Vaccination Required at UCSF Eateries
---
By Robert Hood on August 27, 2021
---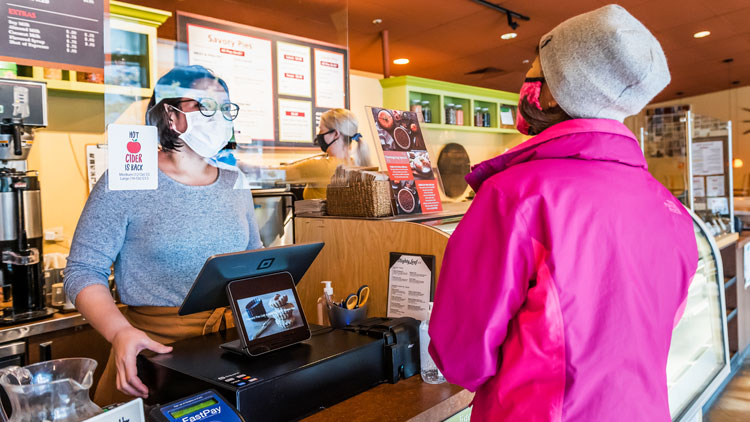 Beginning Friday, Aug. 20, 2021, customers over the age of 12 at San Francisco restaurants, including those at UCSF, are required to show proof of a COVID-19 vaccination before they may dine indoors. Customers are required to wear a well-fitted face mask when ordering and/or waiting or picking up "to-go" orders at a San Francisco restaurant.
"According to the San Francisco Department of Public Health, customers will need to show proof of vaccination before they sit to dine indoors," said UCSF Retail Services Manager, Tamara Villarina. Acceptable forms of proof include:
• UCSF ID with COVID2 sticker (UCSF employees/students)
• Original, copy or picture of CDC vaccination card
• Personal digital COVID19 copy of a vaccine record issued by the State of California or by an approved private company. Visit California's Digital COVID-19 Vaccine Record portal and enter some details to access a digital copy
• Documentation of vaccination from healthcare provider
Customers will also need to show government issued photo identification (driver's license or passport) or their UCSF ID.
UCSF customers may show an approved UC Approval of Request form for a Medical Exception, Disability Exception, Religious Objection, or deferral based on pregnancy in the form of a paper copy and/or photocopy on a mobile device.
Other non-UCSF customers may show a note from their doctor or clergy in the form of a paper copy and/or a photocopy on a mobile device.
Proof of vaccination is mandated by the San Francisco Department of Health, across San Francisco, and is not a requirement unique to UCSF retail establishments. "Retail Services is working with our food service tenants to be in compliance with the new health order," Villarina said, "so we ask our UCSF customer to please be prepared to show your proof of vaccination with your UCSF ID (or other form of government issued identification)."
The city's updated proof of vaccination is required for customers and staff at indoor bars, restaurants, clubs, theaters and entertainment venues, as well as indoor gyms and other fitness establishments. Individuals may order, pick up, or pay for food or drink "to-go" without showing proof of full vaccination.
"We are all in this together, please help by doing your part," Villarina said. "Wear a mask, kindly show your proof of vaccination to dine indoors, wash your hands, and stay home if you are not feeling well!"
Café Bellini, Panda, Carmelina's Taqueria, and Ladle & Leaf remain OPEN. Millberry Union and School of Nursing seating areas are temporarily closed.
Peasant Pie and SF Kebab's indoor dining areas are open. Outdoor seating is also available.
Other locations:
• Subway, Double Shot, and Publico at Gene Friend Way at Mission Bay are open with no indoor seating.
• Subway and Jamba Juice at Millberry Union are open with no indoor seating.
• Terzetto Express at 400 Parnassus is open with no indoor seating.