Mariana Rochita: The Friendly Face at Mission Bay's Golden 1 Credit Union
---
Published on March 19, 2019
---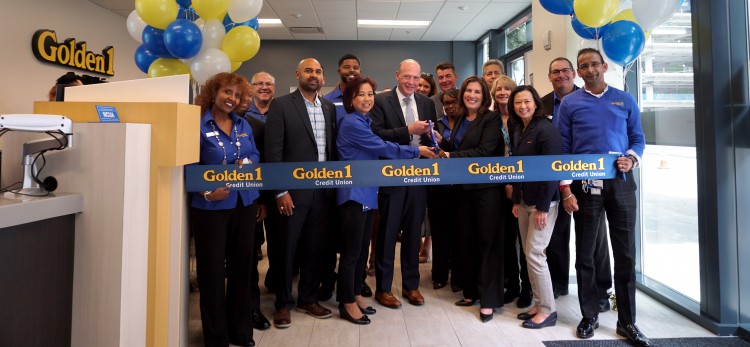 Mariana Rochita considers herself part of the UC San Francisco community. After all, Rochita, who currently serves as the branch manager for Golden 1 Credit Union at Mission Bay, has worked with UCSF employees for the past 12 years.
"I started at the Parnassus branch," said Rochita (photographed fourth from left at the branch's grand opening celebration). "UCSF employees are great to work with. They are nice, well educated, and very polite."
Golden 1 is the main financial institution serving UCSF employees. When the Mission Bay branch opened last fall, Rochita was excited to serve the new UCSF community. "We have been participating in events like the Farmers' Market and we've held a number of information sessions for students and employees."
Rochita has also noticed that the Mission Bay community is growing and changing. "When we first opened the branch, our customers were predominantly UCSF employees but that is beginning to change. Because our branch is located on 3rd Street, we see customers who live in Mission Bay and consider this their neighborhood financial institution."
Rochita said helping UCSF students, staff, and faculty achieve their financial goals remains a top priority for Golden 1. "We help them with budget planning, loans for homes, cars, and education, and financial planning for retirement. Our branch is very convenient for them. They can come in and talk to us during their lunch break or after work."
Golden 1 at Mission Bay is located at 1560 3rd Street. The branch hours are Monday through Thursday, 9am to 5:30pm, Friday 9am to 6pm, and Saturday 9am to 2pm. A 24-hour ATM is located adjacent to the branch.