Ladle & Leaf Cookies: Changing Lives One Bite at a Time
---
By By Robert Hood on June 03, 2019
---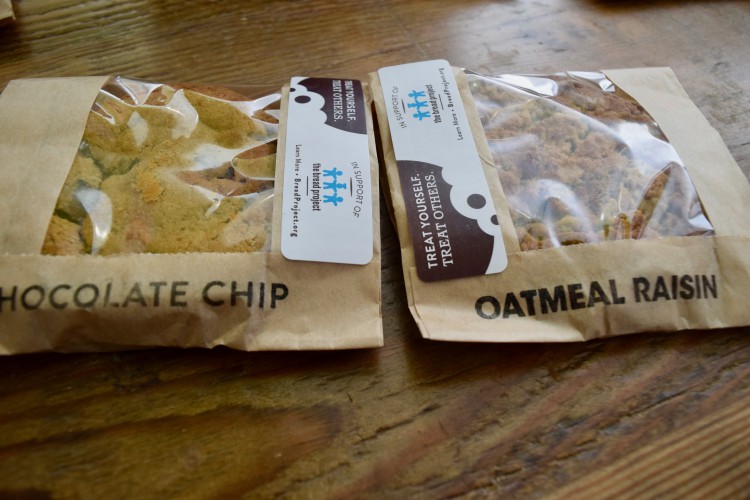 The chocolate chip and oatmeal raisin cookies at the Ladle & Leaf restaurant in UC San Francisco's School of Nursing courtyard are one of the best kept secrets on campus. They are soft, chewy, delicious and helping change lives one bite at a time.
Clayton Chan, chief operating officer of the San Francisco Soup Company, Ladle & Leaf's parent company, has partnered with The Bread Project, a Berkeley based nonprofit, to develop the special cookie recipe and help low-income, chronically unemployed adults learn baking skills to help them find jobs.
"Clayton and Ladle & Leaf have been a godsend for us," said Pamela Calloway, executive director and board member of The Bread Project. "The cookies they purchase help underwrite our entire program. That includes our production facility, classrooms, computer lab and eight to 10 class sessions per year with 10-16 students in each session."
The Bread Project was founded in 2000 and has served more than 1,800 low-income individuals with 90 percent of their graduates finding jobs within a month. Approximately 38 percent of their clients are refugees and immigrants and they all live below the federal poverty level.
Catalina Shahverdiyeva was a member of The Bread Project's latest graduating class. "It's about more than baking. It's about learning life skills," Shahverdiyeva said. The four-week, 130-hour, intensive commercial baking production job training program helped change her life.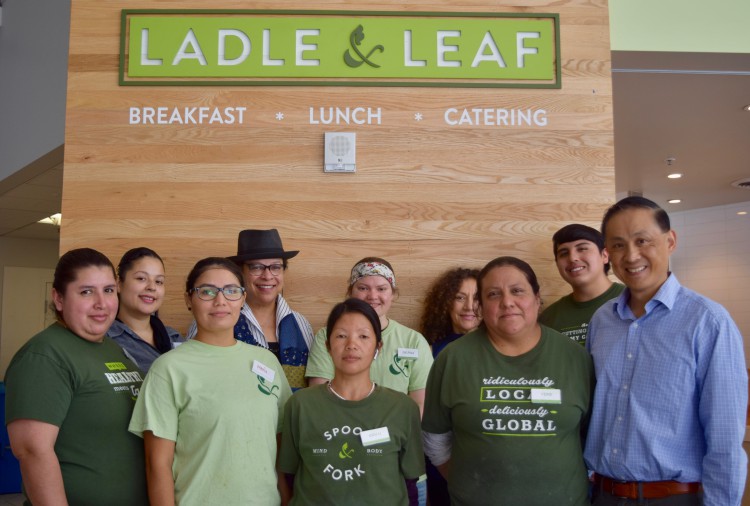 "I didn't know how to bake," she said. "Entering the program was the best decision I've made. I've already had my first job interview at Whole Foods."
Shahverdiyeva's sweet taste of success was made possible because Ladle & Leaf's chocolate chip and oatmeal raisin cookies paid the tuition for her entire graduating class. "I could never afford a job-training program like this, so I'm thankful for everything Ladle & Leaf and the Bread Project have done for me."
Chan, who sits on The Bread Project's advisory council, said perfecting the recipe for his cookies was a labor of love. "The Bread Project needed a steady revenue stream and we needed the Bay Area's best cookies," he said. "It took us about four months to perfect the recipe."
Chan, photographed above (far right) with his staff, Calloway (in hat) and Shahverdiyeva (fourth from right), said they wanted to produce a thick, chewy, cookie that would stand out from the average cookie. Each cookie is individually wrapped and delivered fresh to the restaurant daily. "It took a while, but I think they are perfect," he said.
Calloway said the relationship between The Bread Project and Ladle & Leaf has produced a recipe for success for some of the Bay Area's most marginalized individuals. "When thousands of low-income, chronically unemployed adults are able to make a successful transition to employment and have ongoing access to further education to increase their economic opportunities, they improve not only their own lives but those of their families and communities, for generations to come."
For more information on The Bread Project, visit breadproject.org.