If You Are What You Eat, Become Farm Fresh
---
Published on July 31, 2012
---
At campus farmers' markets, health is always in season
Advancing health worldwide starts right here at home. More importantly, it requires a holistic approach that strengthens the well-being of your body, mind, and soul.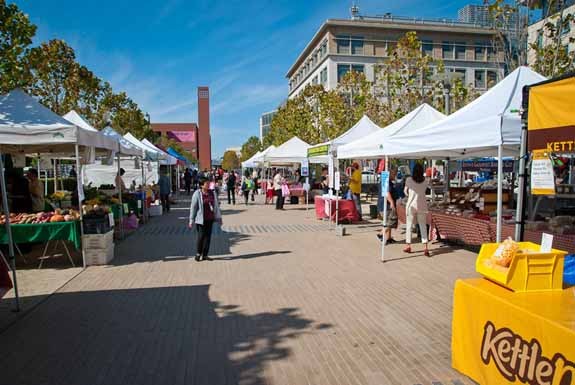 Our certified UCSF Farmers' Markets offer much more than seasonal plants to eat. With locations at Parnassus and Mission Bay, you can also find decorative plants, locally farmed eggs, and a selection of snacks and menu ingredients:
Fresh popcorn and baked goods
Handmade cheeses
Nuts and olives
Specialty foods
Spices and herbs
In addition to the wide variety of food products, Campus Life Services Retail and the Pacific Coast Farmers' Market Association work together to bring entertainment and activities to each market, to help add fun and balance to your workday. Scheduled on Wednesdays during standard office hours, these on-campus markets serve as an alternative lunchtime spot, a place to learn a new recipe, or a live music venue. With professional cooking demonstrations, a summer concert series, and prize giveaways through Facebook, you have a convenient resource to get outside and take a break.
By providing opportunities to shop locally and sustainably, the UCSF Farmers' Markets also make it easier for faculty, staff, and students to save money and reduce their environmental impact. With high-quality products from California, the markets are a great way to support local businesses and farmers. When you buy directly from the source, you'll find that costs are comparable to (if not lower than) your local grocery store.
In addition to reducing carbon imprints, the UCSF Farmers' Markets help reduce waste. In support of UC Recycling's commitment to zero waste by 2020, reusable bags are available for purchase and all Mission Bay Farmers' Market vendors follow plastic-free practices, with the use of environmentally friendly shopping bags.
Located on campus, the markets are accessible by foot or a short shuttle ride. See first-hand how health has never been more convenient.
The UCSF Farmers' Market is brought to you by Campus Life Services Retail and the Pacific Coast Farmers' Market Association. Every Wednesday, rain or shine, on the following campuses:
Mission Bay, 10:00 am-2:00 pm
Year-round on the plaza at Gene Friend Way
Parnassus, 10:00 am-3:00 pm
Year-round in the Elevator G Breezeway