The Perfect Recipe: Mixing the Savory and Sustainable
---
Published on November 09, 2018
---
Carmelina's Taqueria shows green is more than a sauce
When putting together the right ingredients for a successful business, Karim Salgado knows it's not enough to simply serve good food. You also need to satisfy the community.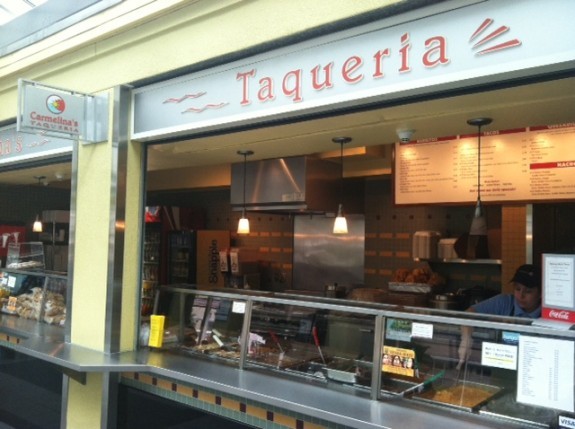 With a loyal following of UCSF faculty, staff, and students, as well as surrounding neighborhood residents, Carmelina's Taqueria is known for its unique twist on Mexican and Latin cuisine. It's not unheard of to see a line 30 people deep, waiting (salivating?) for burritos, quesadillas, tacos, plantains, carne asada fries with gold-level certified angus beef, and more. But to Salgado, what is being served is secondary to how it's being prepared.
"Sustainability is important to UCSF and San Francisco as a whole, so it's important to me," says Salgado. "Since I'm serving locals, I strive to buy local. It lessens the impact of Carmelina's Taqueria, and ultimately its customers."
Paying special attention to UCSF's Sustainable Food Service Goal to achieve 75% less waste by June 2012 and 100% diverted waste by June 2020, Salgado knows it goes beyond recycling and composting—she literally gives people the materials to do so. As the featured Retail food vendor at the 2012 Living Green Fair, everything served by Carmelina's Taqueria was 100% sustainable, from the compostable cups holding homemade salsa roja to the recyclable foil that wrapped the veggie burritos. On an every day basis, Salgado continues these practices by purchasing sustainable "to-go" ware and is working towards ordering all products that are 100% made in the USA.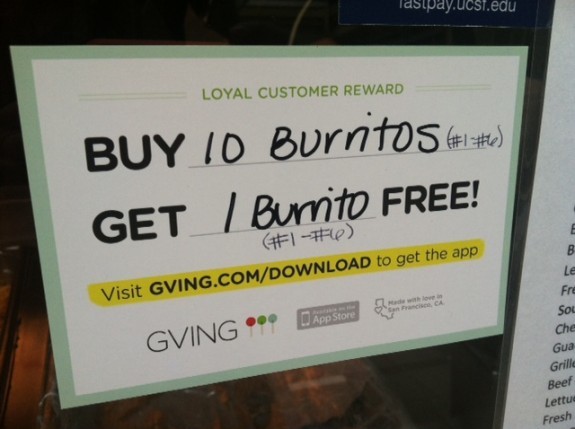 Living green not only benefits the community, but it also helps Salgado reward her customers. Rather than passing on the costs of sustainability, she has found sustainable ways to reflect their lifestyle and loyalty; through the use of smart phone apps like GVING and Foursquare, customers have access to a virtual frequent buyer card and regular specials and discounts.
With sustainability so convenient and second nature, see why people go back for second servings.
Carmelina's Taqueria is open Monday through Saturday and located on the Plaza Level of Millberry Union at the UCSF Parnassus campus. 415.502.1121.
Mon-Thu, 7:30 am-7:00 pm
Fri, 7:30 am-5:00 pm
Sat, 10:00 am-3:00 pm