Safety & Security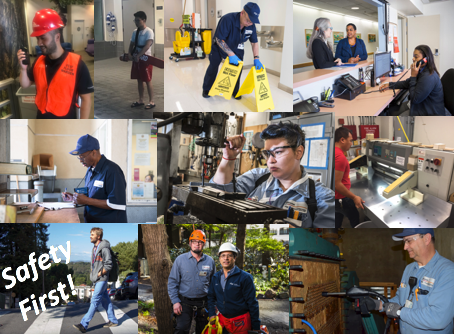 EMERGENCY: To reach UCSF police, dial 911 from any campus phone or 415/476-6911 from a non-campus phone.
POLICE NON-EMERGENCY: 415/476-1414


Are You Ready for the Big One? Earthquake Preparedness during the month of October:
• The Earthquake Country Alliance has developed a step-by-step guide for staying safe before, during, and after an earthquake. Check out their Seven Steps to Earthquake Safety, and/or view the Safer At Home Webinar Series
• The Great California ShakeOut Earthquake Drill: Millions of people will practice how to Drop!, Cover! and Hold On! at 10:15 a.m. on Thursday, October 15 as part of the annual Great ShakeOut Earthquake Drill.
• To prepare for the inevitable Bay Area earthquake, take this opportunity to practice as if a major earthquake were happening while you were indoors: drop to the ground, take cover under a table or desk, and hold on. Watch video
• Do you have disaster supplies and a "Go-bag"?
• Drop, Cover, Hold On photo contest (enter by October 19). Teams and individuals are encouraged to take a photo while participating in the Drop, Cover and Hold On drill. Participants must enter by October 19 and consent to their name and photograph being used by CLS. Prizes include emergency kits, gift cards, and more. Entries will be judged on the following categories: General category, Kids and animals joining, % Most submissions by unit - prize for whole unit. Enter photo contest

Safety First! Here in CLS, safety is our first priority. First and foremost, we want to be sure that you, our employees, are safe. Without a safe and secure workplace, we cannot be successful.


Building Signage for COVID-19: Due to COVID-19, we have new protocols to follow while working/studying in UCSF space. For your convenience, this series of signage templates can be downloaded and printed from your local printer and placed in your immediate area.

We'd like to hear from you! We invite you to submit your feedback about this webpage.