Leadership Development Program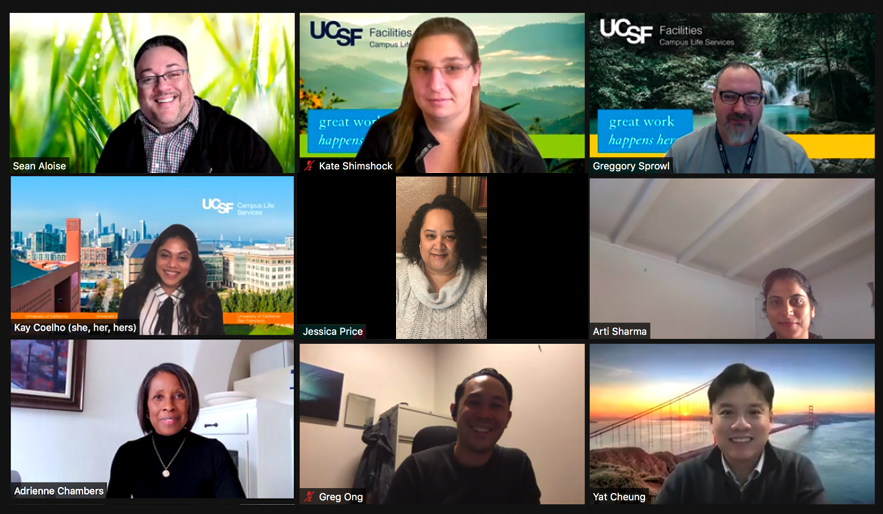 Pictured: 2021-22 LDP Cohort
Congratulations to the 2021-22 Leadership Development Program Cohort!
Nine members of Campus Life Services staff were welcomed into the newest cohort of the CLS Leadership Development Program (LDP) during a virtual Orientation & Welcome event on Jan. 28, 2021. The new cohort will spend 16 months working together developing their leadership skills through classes, activities, a project and more.
About the Campus Life Services Leadership Development Program
Collaborate – Build Knowledge – Lead: Leadership development means building knowledge and competency not only for the management of day-to-day operations, but also for inspirational and effective organizational leadership.
The purpose of the CLS LDP is to expand and deepen the CLS leadership team by offering a training program for managers, or equivalent, whose performance and initiative has demonstrated leadership potential. This program provides opportunities for future CLS leaders to:
• Build awareness, knowledge and competencies in areas such as public speaking, strengths, budget and finance, leading remotely, lean thinking and practice, and more
• Gain practical leadership skills and experience
• Develop valuable relationships with cohort members across CLS
• Break down silos
• Contribute to a need within CLS via a group value improvement project/practicum using Lean
• Grow professionally and personally under the guidance of a mentor
• Prepare for possible advancement within the University environment
• Expand and deepen team dynamics
• Network with UCSF & CLS leaders and program alumni
Elements of the Program
Due to the current environment, all components of the program will be held virtually until further notice.
• Orientation/Welcome event
• Team building
• Assessment (Strengths Finder)
• Classes
• Leader talks
• Mentoring
• CLS Leadership Group Meeting/Retreat support
• Coaching (Lean)
• Mid-program meeting
• Group value improvement project, proposal & presentations
• Graduation
Class topics (subject to change)
• Modern Leadership
• Decision Making & Problem Solving
• Executive Presentation
• The Remarkable Remote Team for Managers
• Enhancing Professional Presence and Communication Skills
• Budget & Finance for UCSF Leaders
• Best Practices with Zoom
• Diversity, Equity and Inclusion: UC Managing Implicit Bias Series
• Individual Elective
Program commitment: Applicants must commit an average of 8-12 hours per month (formal activities and/or classes; plus project meetings/work arranged by the cohort, mentoring, or coaching) over the course of the 16-month program, with the understanding that attendance is mandatory for all program events.
Eligibility Requirements
• Current supervisor, manager, experienced professional (P3) or equivalent in Campus Life Services
• Demonstrated initiative and leadership potential
• Committed desire to assume leadership role
• Minimum "Meets" as overall performance rating in most recent PE

Additional Consideration Factors
• Timeframe at UCSF and CLS
• Non-exempt classifications will be reviewed on a case-by-case basis
Application Process
The open application period is currently closed. The application for the program includes a personal statement, career development plan, resume, and possible interview. Additionally, the applicant's supervisor/manager provides a statement of endorsement and the applicant's director provides business unit approval. Diverse candidate applications are encouraged. Selections will be made by committee after a review of each candidate's application package.
Questions?
For more information, contact: Elicia Rozic, Great People Development Manager, .(JavaScript must be enabled to view this email address).