Resources
Helpful links/resources:
Engagement Resources from UCSF Learning & Organization Development
Employee Engagement news from Gallup
Gallup Q12
The Gallup Q12 Employee Engagement Survey is considered the most effective measure of employee engagement. Gallup researchers spent decades writing and testing hundreds of questions, because their wording and order mean everything when it comes to accurately measuring engagement. As part of ongoing efforts to make UC San Francisco a great place to work, UCSF periodically conducts a Gallup Q12 Survey of all staff to gauge their level of engagement and satisfaction as employees.
New Care Talk: A Conversation About How Managers Can Foster Engagement
UCSF Learning & Organization Development (L&OD) has created a new course in response to the high demand of the Managers Engagement Workshops held in October 2018. Visit UCSF Human Resources to view the video.
L&OD Care Talk: A Conversation About How Managers Can Foster Engagement is a conversation about how managers influence their team's engagement. Using materials and exercises from the 2018 UCSF Managers Engagement Workshop, you can also listen to this course as a podcast, if you prefer. Visit the UCSF Learning Center for more information.
You may also pause and watch these videos as much as you like. We hope our conversation inspires you with fresh ideas for engaging your team!
http://bit.ly/CareTalkManagersEngagement2018
Note: The program is 90 minutes and can be viewed in sections. The instructor-led version runs 2 hours.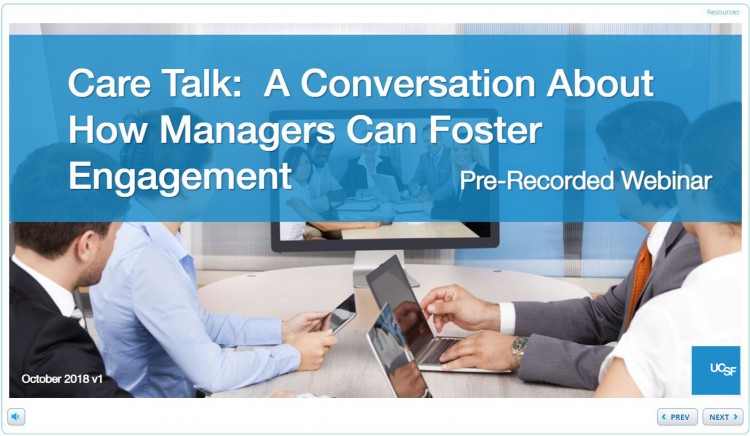 ---
---