CLS Mindfulness @Work 21-Workday Challenge

CLS Staff Exclusive: the challenge begins Monday, February, 10, 2020
You are invited to participate in this exclusive program for CLS staff that will give you tools and techniques to enhance your professional and personal life, leaving you feeling more productive and energized.
This pilot program gives CLS staff access, to:
The eLearning portal with short tutorials and tips related to daily habits
The Hello Mindful App for incorporating the habits easily into your workday
A community of like-minded people and getting the support and encouragement you need
Input and coaching from the Hello Mindful team in the eLearning portal including online live group calls
Enroll in the CLS Mindfulness @Work 21-Day Workday Challenge.

"I found the 21-Workday Challenge very easy to follow and a great structured course without getting side-tracked by "gadgetry" of an app…most of the time I am surprised to see how much I actually got done." ~ Daniela, Project Assistant Manager, Documents and Media
By participating in the CLS Mindfulness @Work 21-Workday Challenge, you can experience:
Enhanced self-care and emotional well being
More joy in your work
An increased ability to focus and get more accomplished in less time
And so much more!
"Another helpful part of the App is the Mindful Break reminders. A reminder to breathe, meditate, walk or yoga (I use this time to stretch). With taking on more, with less time, the reminder pops up on my phone, and I take the time needed to be mindful, and spend time on myself which makes me more productive." ~ Pam, Business Development Manager, Documents and Media
This pilot program is exclusive for all Campus Life Services staff as an engagement activity, and is generously sponsored by Wellness and Community and CLS Engage.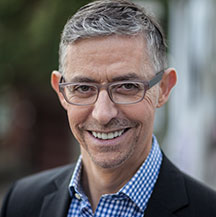 The CLS 21-Day Mindfullness Challenge is being led by Pierre Khawand, who may be familiar to cohorts of the CLS Leadership Development Program. Pierre introduced the Accomplishing More With Less workshop to UCSF and more recently the Accomplishing More for Managers and Supervisors workshop, and delivered numerous presentation skills workshops, leadership training, mindfulness workshops, and coaching sessions for the Campus Life Services community. He is the author of several books including The Accomplishing More With Less Workbook, Time for Leadership, and more recently, The Perfect 15-Minute Day: Managing your Time, Thoughts, and Emotions. When not tackling productivity issues, Pierre enjoys hikes with his wife and friends in the San Francisco area, as well as Tai Chi and Argentine Tango.
Have questions about the challenge? Access the FAQs here.
Register now for the CLS Mindfulness @Work 21-Workday Challenge online.
For more information on this program, email .(JavaScript must be enabled to view this email address) or .(JavaScript must be enabled to view this email address).