Campus Life Services Goal Presentation Contest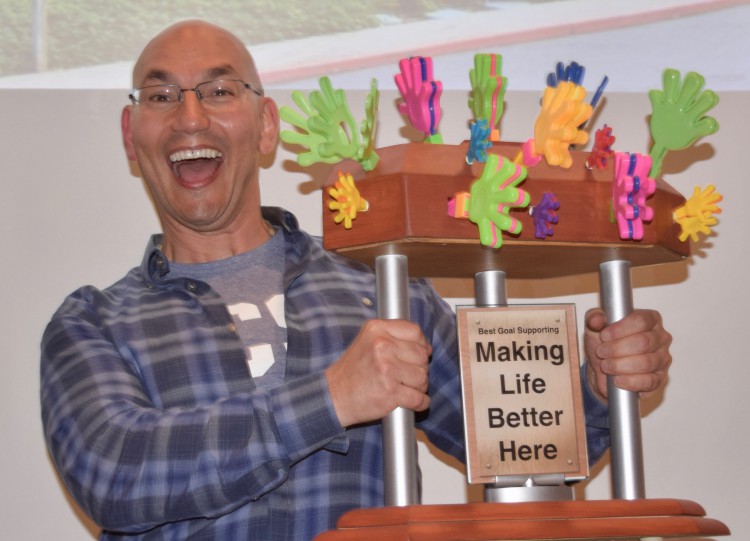 For the past two years, Campus Life Services has celebrated the innovative ways we make life better for the UCSF community by highlighting our major initiatives at the CLS Goal Presentation Contest. Transportation Services has come out on top each year, despite the heavy competition.
This year, David Schachman presented "Going Boldly Into the Future: Expanding Electric Charging Across the UCSF Enterprise". His presentation focused on the efforts of Transportation Services to significantly expand the number of electric vehicle charging stations across campus. In a highly scientific mobile phone poll, members of the CLS community agreed that Schachman's presentation best advanced the CLS motto of Making Life Better Here.
While Transportation Services earned the trophy, everyone was a winner as they learned about the significant initiatives launched at CLS over the last 12 months. Here is a complete list of presenters, departments and presentation titles.
| Presenter Name | Department | Presentation Title |
| --- | --- | --- |
| Tamara Villarina | Retail Services | What Does a Hot Tub Have to do with Retail? |
| Bryan Garza | Facilities Services | I Saw the Sign…It Opened Up My Eyes and I Am Happy Now! |
| Timmy Ta | Business Systems Development | Web Analytics: Your Click Counts |
| Suzie Kirrane | Family Services | Baby Boom for Lactation Rooms |
| Tony Fuzie | Housing Services | Minnesota Street Housing: It's Been a Rocky Road |
| Gil Lorenzo | Wellbeing | Destination: The Best Place to Work |
| Arief Hussain | Facilities Services | Oh Where, Oh Where Has My Custodian Gone? |
| David Schachman | Transportation Services | Going Boldly Into the Future: Expanding Electric Vehicle Charging Across the UCSF Enterprise |
| Liane Wong | Fitness & Recreation | Warning: Gym Detour Ahead |
| Arleen Bandarrae | Marketing, Documents & Media, IS | Build It and They Will Read It! |
| Chris Gonzalez | Facilities Services | First Impressions Count…What Have You Done for Me Lately? |

Thanks to all the presenters and we look forward to another great year in 2017-18!