Walgreens Open New Pharmacy at Mission Hall
---
Published on January 25, 2016
---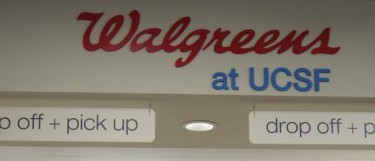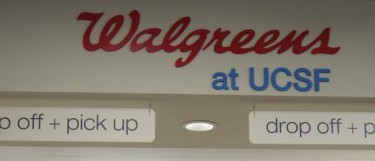 Steve Simon is excited for the opening of the new Walgreens in Mission Hall.
"We've been working hard to get ready," said Simon, an Assistant Clinical Professor in the UCSF School of Pharmacy and the clinic store manager for Walgreens. "I know the residents of Mission Bay are excited that we'll have basic groceries, household supplies, and healthy snacks but we're also a full-service pharmacy specializing in pediatrics."
The store opened in late January and has seen a steady stream of business.
UCSF has a longstanding relationship with Walgreens, said Jen Dowd, Vendor Services Manger. "We are very pleased to have them open their new store in Mission Hall.
"This will be a great service at Mission Bay to fulfill the needs of our hospital patients, visitors, faculty, staff and students who need prescriptions filled or quick convenience items," Dowd said.
The store will differ from the Walgreens at Parnassus in that it will have more "non-medicine" items, some sundries and snacks such as gum, healthy snacks, candy, and healthy beverages.
Walgreens will supply outpatient medications as well as medical devices for the UCSF Medical Center at Mission Bay. Students and staff will find supplies for the classroom and office. The new store will also deliver medicine directly to patients at the hospital as they are being discharged.
"We'll go to their bedside and talk to them about their medications," he said. "This will eliminate their need to go to a pharmacy after they are released from the hospital."
A private medical consultation and immunization area has been built into the new Walgreens. Students will have access to the UCSF network and can work with patients or perform research and outreach. "We'll also supply flu shots," Simon said.
Walgreens is a compounding pharmacy capable of preparing personalized medications, including strength and dosage, for individual patients. It is equipped with a chemo hood to handle hazardous materials.
Simon is originally from Wisconsin and earned his bachelor's degree and a Pharm.D. from the University of Wisconsin-Madison. In 2008 he came to UCSF to teach pharmacy students. He'll oversee an experienced pharmacy staff as well as UCSF students to deliver exceptional service at the UCSF Mission Bay campus.
A vendor appreciation concert is scheduled for Tuesday, Feb. 23 from noon to 1 pm. Walgreens will be open weekdays from 9 am to 6 pm.