UC San Francisco's Laura Bello: Ultra Runner
---
Published on August 25, 2015
---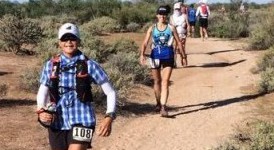 "Most people run a race to see who is fastest. I run a race to see who has the most guts." – Steve Prefontaine, Olympic runner.
For most people, running a couple of miles in the morning is a major accomplishment. For Laura Bello, a couple of miles are just the beginning.
Bello, who works as an administrative analyst for Facilities Services Engineering & Energy Services, is an ultra runner. Last November, she finished her first 100-mile trail race, the Javelina Jundred held at the McDowell Mountain Regional Park in Arizona.
"When I first started running in 2009, my goal was to simply get healthy," she said. "I had no interest in running more than five miles at a time." As she continued to run, Bello raced her first half-marathon, the Nike Women's Half-Marathon in San Francisco. "That got me hooked. As I trained for that race I met other runners and I formed a community and social life around the sport. It became much more important to me than simply running."
In 2010, Bello ran her first marathon in Chicago with her sister. Following that she ran her first 50K race and then a 50-miler.
"I was running with a friend who had running a 50-mile race on her bucket list. We ran the American River 50, which is novice friendly. My friend didn't run another 50-miler but I had so much fun I wanted to run another."
And she did. Bello has now raced 10 different 50-mile races and more 50K races than she can count.
Running is now a major part of her life. Bello writes a blog about her different running experiences called The Fun Size Sandbox: An Experiment of One/Bedtime Stories for Ultra Runners. She is also a field correspondent for Ultra Sports Live.TV covering races around the country. Finally, she's an ambassador for Ultra Adventures, a race organization that coordinates races in Utah and Arizona at spectacular places like Antelope Canyon, Monument Valley, Bryce, and Zion.
When Bello is training, her weekly running mileage rarely dips below 50 miles per week. "At my peak training, I'm running 70 to 80 miles per week. I will run 25 to 30 miles on Saturday and turn around and run another 25 to 30 miles on Sunday."
In a 100-mile race, tired legs are less of an issue than an upset stomach, Bello said. "If you can't eat and get nutrients into your body to create energy, you're in trouble. My rule is to eat anything that looks good at the time and what looks good changes as the race goes on."
To follow Bello's blog, visit http://coffeemoney.com/blog/.