UCSF's Helen Sigua Loses 40 Pounds the Old Fashioned Way – With Diet and Exercise
---
Published on May 23, 2016
---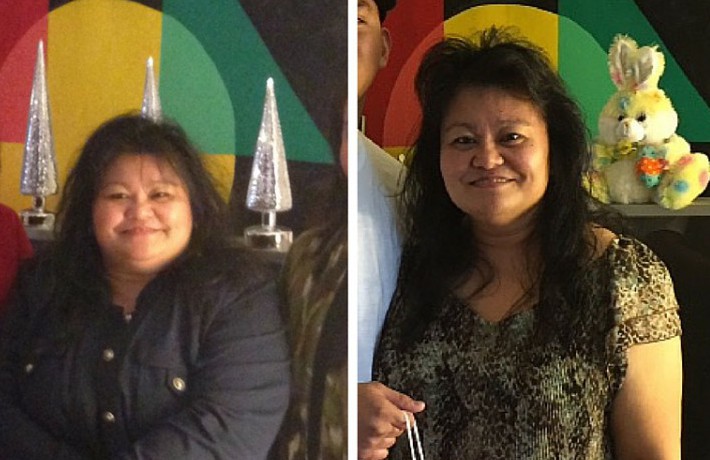 On Jan. 9 of this year, Helen Sigua looked at a photo of herself and said she had seen enough. It was then Sigua decided it was time to lose weight.
A practice coordinator at UCSF since 2012, Sigua gave up rice, bread, soda, and most carbohydrates and replaced them with lean meats and vegetables. She also began a daily exercise routine that includes resistance bands in an empty focus room near her Mission Hall office.
In the four months since changing her diet and increasing her exercise, she's lost 40 pounds. "It feels so good," she said. "I can walk up the stairs at work without my chest tightening and I'm sleeping so much better."
Sigua, who grew up in San Francisco and graduated from the University of San Francisco, didn't tell coworkers and friends about her new lifestyle. "I tried not to jinx it. I was worried that if I talked about it I wouldn't lose weight. But, after losing 40 pounds, it's difficult to hide. I feel confident now that I can keep the weight off so I'm opening up."
Her older sister, Louella Sigua, said Helen has remained focused on becoming a better person by focusing on her health. "That requires strong will power on her part."
Sigua credits part of her success to weekly trips to the Mission Bay Farmers' Market. "I buy spinach, cilantro, leafy greens, and romaine lettuce. Instead of using bread for a sandwich I make lettuce wraps."
She's also learned that YouTube is a great source of exercise videos. "It's amazing how many good workouts you can find. I also do at least 100 crunches a day and sometimes I do 200. Not all at once, but over the course of the entire day."
While she's proud to have lost 40 pounds, she hasn't reached her goal yet.
"I want to lose 50 more pounds but my ultimate goal is to keep the weight off. I can't go back again."