UCSF Recognized as Leading Fundraiser for AIDS Walk San Francisco
---
Published on June 18, 2015
---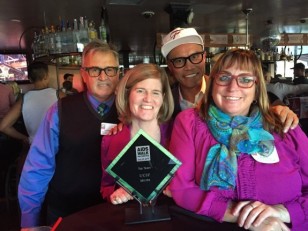 UCSF was recognized as the top fundraiser in 2014 for AIDS Walk San Francisco at an event held June 16 at The Lookout Bar & Restaurant in the Castro.
Jennifer Mannix, Jennifer Dowd, and Joey Convento joined Robert Mansfield, Communication and Special Events Coordinator for UCSF Global Health Sciences, in accepting the award. UCSF raised more than $80,000 last year. The money benefits Project Inform and HIV/AIDS programs and services throughout the nine-county region.
"It was a great night," Jen Dowd said. "It was super fun and we were really proud to represent UCSF at such a great event."
This year's UCSF contingent has 19 teams signed up to participate in the annual 10K fundraising walk through Golden Gate Park. The walk will be held Sunday, July 19.
"Our goal this year is to raise $90,000," Jen Dowd said. "Two UCSF teams are among the top fundraisers so far this year."
Members of the UCSF community can still join a team or contribute to a walker by visiting AIDS Walk San Francisco. Those who contribute $25 will receive a commemorative T-shirt with the #OneUCSF campaign that highlights how each member of the UCSF community shares a common bond – a desire to change the future of health. As usual, UCSF AIDS Walk team members will receive a free breakfast and lunch.
Members of the UCSF community can also show support by purchasing from UCSF vendors on Wednesday, June 24. Customers who purchase coffee, lunch or a snack at participating vendors will get 5 percent of their purchase donated to the UCSF Campus Life Services Team No. 1420. Participating vendors include:
Mission Bay campus: Café 24, Publico, Peasant Pies, Caffe Terzetto and Subway.
Parnassus campus: Terzetto Express, Jamba Juice, Carmelina's, Taqueria Café Bellini, Café Central and Subway.
Mission Center Building: Carmelina's Café.
Members of the campus community also will be able to make a donation to the Campus Life Services AIDS Walk Team No. 1420 at the Pub from June 24 through July 17.