UCSF Custodian Jeffrey Branner Escaped San Francisco's Infamous Bernal Dwellings
---
Published on June 15, 2015
---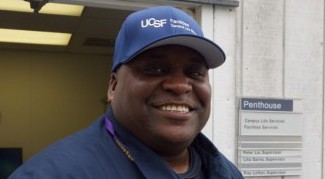 Bernal Dwellings – or the Army Street Projects as they were known – was infamous in San Francisco during the late 1980s and early '90s. Home to nearly 500 people, the public housing complex located at the corner of Cesar Chavez and Folsom was a hotbed of gang and drug activities, especially crack cocaine. Police reports showed that more than 20 people were beaten, shot or knifed to death on the grounds.
This is where UCSF Custodian Jeffrey Branner was raised.
"When I was young, the Army Street Projects were low-class but they weren't rough," Branner said. "But in the late 1980s it became a target neighborhood for crack cocaine. That's when everything changed. Murder, assault, robbery…the projects were a magnet for crime."
And Branner and his family were not immune. "I couldn't get away from the drugs and violence. My father was a preacher and my mother was a missionary but they couldn't keep me and my brother away from the scene."
Branner and his brother Eugene were swept up in the cycle of drugs and violence. They became drug dealers in the projects and were accused of running a large criminal organization. Branner was eventually convicted of dealing crack cocaine and spent three years in a correctional facility. But in August of 1993, his life changed.
"My brother was shot and killed in the projects. I realized earlier that I needed to change my life, but when I witnessed the death of my brother I knew I couldn't continue with drugs and violence."
In 1994, Branner became a deacon at the Holy of Holiness Missionary Baptist Church located at Divisadero and Hayes streets. He was later installed as a minister at the church but after a few years he left to join St. Andrew Missionary Baptist Church on Post Street, where he currently serves as assistant pastor.
"Today, I preach in church, the streets, hospitals, prisons, anywhere where I can make a difference," he said. Branner spends a lot of time talking with kids and families and is a community organizer in San Francisco's Bayview neighborhood. "If you ask people on the street if they know 'Big Jeff' they'll likely know me."
Will Butler, a senior custodial supervisor at UCSF, said Branner is the consummate family man. "His dedication to making sure his family has the basic necessities to succeed in life is one of Jeffrey's great qualities. I had the chance to meet some of his children and I have to admit they love their father and seem to be a very close family. In the black community, that seems to be a lost art. And to listen to Jeff talk about his family, and to listen to his children talk about him, lets me know he is a special kind of guy."
Jeffrey volunteers with the City and County of San Francisco's Victims of Violent Crimes as a liaison to families in need of help during the loss of a loved one to violent crimes. He also works with Brothers Against Guns, an organization that counsels youth on alcohol and drug use, educational failure, gangs, handguns and violence, and teen pregnancy.
"I know what they are going through," he said. "I've been there. I get calls at midnight from parents asking if I can go to the hospital to see their children. I spend time with families at funerals as they bury their children."
Branner said his life really turned for the better on May 14, 2003. That was the day he was hired as a custodian at UCSF. "I had a cousin working at the university and he told me about the job. It was really a sign from God because my past criminal record had just been sealed. I was hired as a senior custodian and I've been with UCSF for more than 12 years."
Butler, who has been supervising Branner, called him a very hard worker. "It's rare to run into a person that you can treat as a friend and as a professional. He has been a pure pleasure to work with."
Branner, who serves as a union representative for the American Federation of State, County and Municipal Employees (AFSCME) Local 3299, said he enjoys coming to work. "I know everybody at Parnassus, from the doctors down to the fellows. We have a good staff here. We don't always see eye-to-eye but we always find a happy medium."
Butler said Branner is known as a fun-loving employee. "He may walk in wearing his famous blue pajama pants one day or his black liturgical outfit the next. Either way, he's a hard working person that his UCSF family has grown to love and respect."
Branner said he's excited about the new ideas and changes being made in Facilities Services and the upcoming changes to the buildings and grounds at Parnassus.