UCSF Construction Projects Big and Small Start With Elaine Bodeen
---
Published on April 27, 2015
---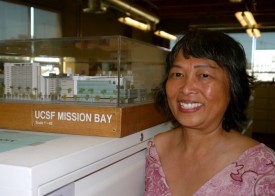 From construction of Mission Hall to the installation of a pedestrian signal at Fourth Avenue and Nelson Rising Lane, Elaine Bodeen has been involved in each project from the outset. No construction project begins on campus without Bodeen's involvement.
As a contract analyst in the Finance Service Center, it's Bodeen's job to prepare the documents used by contractors to bid on projects. "We're involved from the beginning," she said. "We work with the project managers, engineers, and architects to review the design specifications to ensure UC is protected from certain liabilities. This includes mechanical, electrical, architectural, even the landscaping."
It doesn't stop there. Bodeen must also review the Public Contract Code and UC procedures to determine what type of additional language must be added to the documents. "It's all about the little details," she said. "Everything has to be precise because the contractors rely on us to give them an accurate description of the job they are bidding on."
Now, imagine preparing a document that guides the construction of a $100 million, state-of-the-art building in just one week. That's what happened with Mission Hall.
"That was a challenge," she said. "Not only did we have to prepare the final document, but we had to insert subsequent changes following multiple reviews. It was a stressful project that required everyone to be organized. We knew we were going to present this document to a room full of contractors who wanted to bid on the job."
Bodeen said her job is easier since her boss, Jerome Ripley, assistant director of contract services in the Finance Service Center, began modernizing the process with new software. "All of our architectural specifications can be shared online and we can gather signatures electronically," she said. "Changes to the documents can be shared electronically, making the approval process much easier. The public bid opening can now be conducted by conference call so the contractors don't have to be on campus. Technology has made it a simpler process."
Ripley said Bodeen's value spreads beyond UCSF. "I believe she's an irreplaceable asset to the UC system," he said.
Bodeen is a life-long San Francisco resident who grew up in the Mission and graduated from Lowell High School before attending City College of San Francisco and eventually San Francisco State University. She's worked with UCSF for more than 30 years.
"I started as a receptionist," she said. "I worked my way up to Executive Secretary to the Director of Capital Projects. That's how I became involved in preparing the bid documents for campus construction projects. It takes a certain mindset to organize these projects. You have to pay attention to detail and be willing to juggle multiple projects simultaneously. It's also great to work with an excellent contracts team. It's the kind of work I enjoy."