UC San Francisco Swim Instructor Conquers Marathon Swim Challenges
---
Published on July 06, 2015
---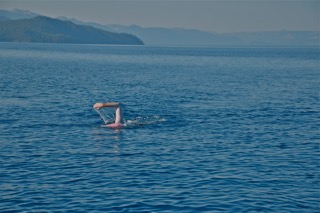 UC San Francisco Swim Instructor Darrin Connolly is no stranger to marathon swimming. In 2011, Connolly was part of the first-ever, six-person relay swim from the Farallon Islands to the Golden Gate Bridge.
But in July of 2013, he attempted his biggest swim challenge to date – the 21.24-mile length of Lake Tahoe.
"There are only a couple of people that complete that swim each year," Connolly said. "The window to attempt the swim is normally limited to July because of the weather. The weather is a real wildcard. You need to monitor the winds carefully."
Connolly, who serves as the coach for the Bay Masters Swim Team at Bakar Fitness & Recreation Center at UCSF Mission Bay, embarked on a rigorous six-month training program to prepare for Tahoe. He swam twice a day in the Bakar outdoor pool, going 8,000 to 10,000 yards on each swim. In addition, he regularly swam the open waters of the San Francisco Bay, including a six-hour swim.
"That six hour swim was tough but I knew it was going to take nearly twice that long to get across Tahoe," he said.
For several weeks leading up to his July 19 swim, Connolly said he was constantly monitoring a wind predictor website. "I was keeping my eye on the weather conditions. Fortunately, the winds died down just in time for me to attempt the swim."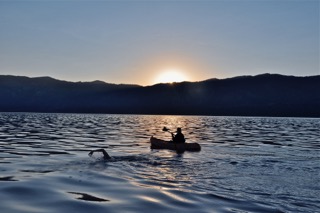 To help Connolly navigate his way across Lake Tahoe, his girlfriend, Tina Voight, would paddle next to him in a kayak (photographed left) while friends stayed close in a motorized boat. "I simply had to stay between the kayak and the boat to keep a straight line. That made it much easier. Tina was really my rock out there."
Connolly had previously worked as the open water swim instructor for the City and County of San Francisco Recreation and Parks Department and was the former swim commissioner at the South End Rowing Club so he was very familiar with the challenges of long, open water swims.
"I had experience in marathon swimming in the ocean but Tahoe was a different swim. Fresh water isn't as buoyant. When you slow down or take a break to eat you begin to sink. You also don't benefit from currents. The swim across the English Channel is nearly the same distance but you can complete it several hours quicker because the current pushes you along."
Connolly said the beginning of the Tahoe swim wasn't too bad. "I had trained up to six hours so I just kept my pace and moved across the lake." It was the final two hours that tested him. "As I passed the six hour mark it became mentally tough. I was by myself in the water. It would have been great to have a pacer to swim with. Thankfully, my friends were in the boat and my girlfriend was in the kayak next to me. She really lifted my spirits as I got close to land."
The former college basketball player finished the swim in 11 hours and 17 minutes. "My first thought was how happy I was to finish and how I wanted to get out of the water."
Connolly went to Croatia for another marathon swim and now has his eyes set on the 20.1-mile Catalina Channel swim between Catalina Island and the mainland. "I have to find the time to train and the money to pay for it," he said. "Catalina is a similar distance to Tahoe but it takes significantly less time because the current can push you along and the salt water helps you float."