Todd McGregor Receives Sustainability Award
---
Published on July 02, 2015
---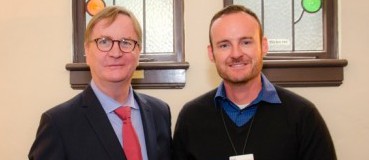 Todd McGregor is the first to admit he was humbled at receiving the UC San Francisco Advisory Committee on Sustainability Staff Award last month.
"As I was receiving the award and the Chancellor was citing the different projects that led to it, I couldn't help but think I wasn't in charge of any of them," he said. "There were so many people in Campus Life Services that played a major role in each of those projects. I simply helped facilitate them."
Todd, the Assistant Director of Housing Services, serves on the university's Water Conservation Work Group; he helped promote water sustainability with residents in student housing; he coordinated the distribution of the "The Right Bin" recycling video to more than 1,000 CLS employees; and he helped coordinate 10 new non-traditional materials recycling points in CLS departments. One example of these was Fitness & Recreation's donation drive of used sneakers for homeless patients who are admitted to hospital emergency rooms.
And, while he may not have been the single point person on any one of those projects, Todd was instrumental in the success of all of them.
Todd was one of two staff members, a student, a faculty member, and a team to receive this year's UCSF Sustainability Award. Each recipient receives a scholarship to the annual California Higher Education Sustainability Conference to be held July 20-24 at San Francisco State University.
"I'm looking forward to attending to learn about sustainability programs at other universities across the state," he said. "They also have some very interesting sustainability tours."