Team Building Activities Can Inject Life Into Work
---
Published on November 19, 2014
---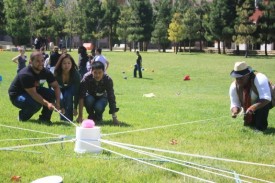 Has work become routine? Do you need to pump some life into your team? Ben O'Banion can design a program that will help inject some life into your work atmosphere and energize your team.
Ben manages the teambuilding events for Outdoor Programs. He can design activities to help team members break out of their comfort zone and have them working together.
"When people hear the word 'teambuilding' they often cringe," Ben said. "They think about some of the team building they've done in the past and they immediately turn off. I enjoy breaking that stereotype by designing specific programs that meet the needs of each team."
Ben said it's easy for teams to lose a sense of camaraderie when they work in different locations and communicate primarily through email. "Context is lost," he said.
Ben's team development workshops use interactive games and fun problem-solving exercises to strengthen cooperation and the decision-making processes. Follow-up discussion helps team members internalize the experience, incorporating what they've learned into their everyday routines. Participants come away with increased personal and team role identifications; stronger leadership and greater individual participation; and improved team dynamics, skills, and morale.
In his three years with Fitness & Recreation, Ben has seen the demand for team development workshops grow. "When I began, most of my work was with students during their orientations. Now I'm seeing an increase in the number of managers bringing their staff together to bond and generate a sense of trust."
To schedule a teambuilding event, email .(JavaScript must be enabled to view this email address) or call 4-4581. You can also visit the team building website.