Staff Appreciation Events Honor, Celebrate, Contributions of Frontline Employees
---
Published on November 24, 2015
---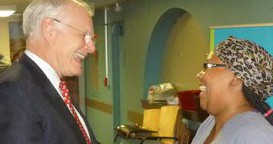 Christina Chen, Finance Analyst in the Department of Bioengineering & Therapeutic Sciences, UC San Francisco School of Pharmacy, enjoys getting together with her fellow support staff at the annual UCSF Chancellor's Staff Appreciation events.
"I meet people I'd never meet otherwise," she said. "The festive atmosphere, the beautiful meal, and the executive staff meeting and greeting each of us, all show me that the administration appreciates the many years of service I have given to UCSF."
This year, there will be seven events. They begin Friday, Dec. 4 at the Moffitt Café at Parnassus. If history is any indication, they will all draw large crowds.
"The Chancellor's Staff Appreciation events are some of the most popular events we organize," said Jennifer Mannix, UCSF Arts & Events Manager, and co-chair of the Staff Appreciation Planning Committee. "We expect about 10,000 employees to attend."
The events are designed to recognize the dedication and service of staff. In his 2015 State of the University address, UCSF Chancellor Sam Hawgood outlined his priority in regards to equity and inclusion. The annual staff appreciation events not only recognize the collective contributions of staff, but they also build on other university initiatives designed to foster community, such as One UCSF. To help capture the contributions of everyone at UCSF, the university created One UCSF to share stories of people who exemplify UCSF's ideals – whose individual contributions demonstrate the drive, passion and intensity of UCSF, and together help us achieve our collective mission of advancing health worldwide.
"We're proud to continue the tradition at this special time of year of recognizing the contributions of the many people at UCSF who make it a great organization," said Dan Henroid, Sustainability Officer, UCSF Medical Center, and co-chair of the Staff Appreciation Planning Committee.
This year's events will be held at seven different locations. To view the full schedule, please visit the Arts & Events Website. Employees are invited to enjoy food, entertainment, and prizes. A photo booth will be available at select events. Medical center and campus leaders will be on hand to greet staff at each location.
Chen said the events show the university cares about the contributions of frontline staff. "Its not words on an email, it's a real, live demonstration of their thanks to me," she said. "Not words but deeds. That's UCSF."