Shuttle Driver Tanya Loftin Brings Passion to Her Job
---
Published on April 13, 2017
---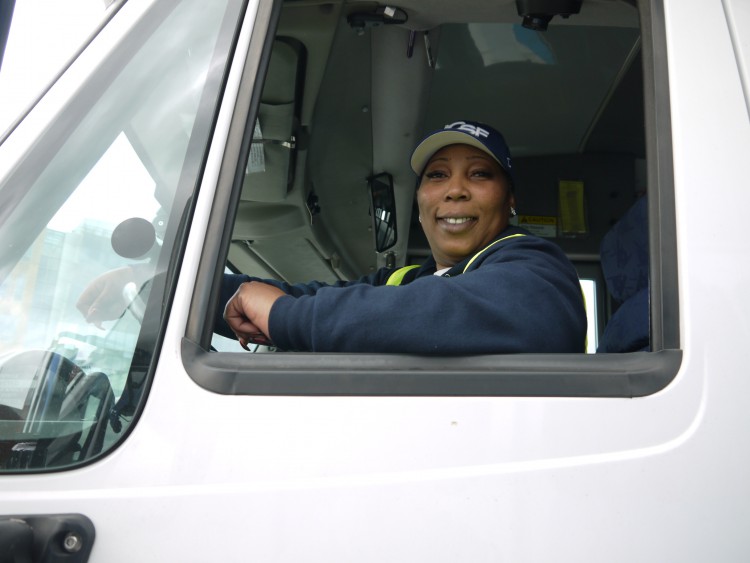 After a tough week at work, Tanya Loftin likes to spend quality time with her four-year-old granddaughter at her home in San Francisco's Bayview neighborhood and listen to some good R&B music.
This "down time" is important for Loftin as she washes away the stress from her daily job as a UCSF shuttle driver. "When I don't work I like to rest and spend time with Cerenity (granddaughter). The one thing I don't want to do is drive."
Who can blame her? During the weekdays Loftin is carefully driving a large shuttle full of passengers through the busy streets of San Francisco. It's a job she's been doing since 1999.
"At first, it was a little intimidating," Loftin said. "But I was determined to be a good driver. I succeeded and now I've had my commercial driver's license for about five years."
Shuttle Supervisor Raymond Yip said Loftin is a quick learner and adapted to the system quickly. "She has shown that she is customer service oriented," Yip said. "She likes to see the good in people, and cares for her co-workers as well as her riders. Tanya will often come to the office to hang out in the break room, often sharing tasty food with office staff."
To drive a shuttle, Loftin said you have to have a passion for the job. "It's not easy. You have to like interacting with people and you have to pay attention to details to make sure your passengers are safe."
Loftin has driven every route on the UCSF shuttle system and has seen traffic increase in the city over the years. She has some simple advice for drivers. "Slow down. People drive too fast. You need to pay attention for yourself as well as other people."
And after work, when Loftin slows down, she's often listening to Mary J. Blige, the Temptations, and the O'Jays with Cerenity. "That's my kind of music," she said. "I like listening to music, watching old movies, eating and hanging out with my granddaughter. That's a perfect day."