Ready, Set, Chase! - By the Numbers
---
By Robert Hood on September 16, 2019
---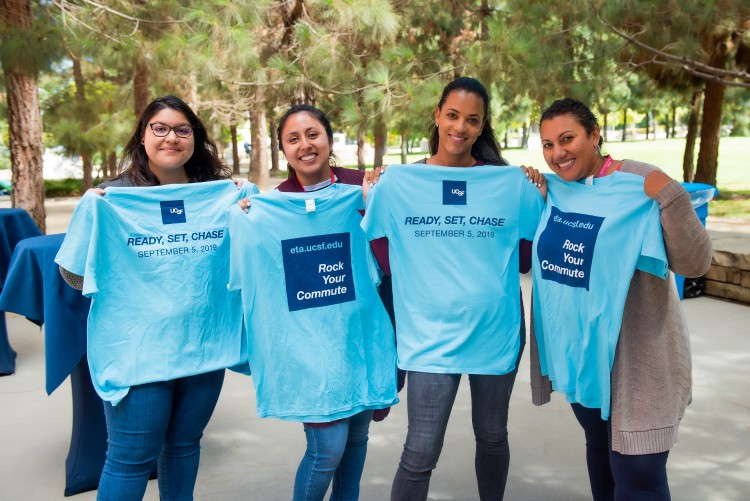 There were some impressive numbers from the recent Ready, Set, Chase! event sponsored by Financial and Administrative Services and produced by Campus Life Services to help the UC San Francisco community prepare for busy traffic days around the new Chase Center.
It starts with 902 attendees scanned at registration or at the doors of one of the four different lunch-and-learn sessions on Sept. 5. There have also been 4,291 sign-ups to the UCSF ETA - Event & Traffic Alerts distributed by Transportation Services, which includes 371 sign-ups since the event.
"Employees across the enterprise were eager to learn about different work options during busy commute days," said Senior Associate Vice Chancellor for Campus Life Services, Clare Shinnerl. "This was a great opportunity to learn about some 'out of the box' commute options."
Backing up the strong event attendance numbers were a large number of page views on the new ETA.ucsf.edu website. According to Brian Cosgrove at Documents & Media, since Aug. 1, the site has been the second most popular page on the CLS website. By Wednesday, Sept. 11, the ETA.ucsf.edu site had drawn 28,599 page views.
There were 429 people who clicked on the ETA.ucsf.edu calendar subscribe button during the Ready, Set, Chase! event. The color-coded calendar is a simple way for members of the UCSF community to plan ahead and adjust their schedules or commute modes, if possible, to avoid particularly bad traffic days. The calendar page has been the fourth most popular page on the CLS site since August.
Thirteen vendors participated in the event including Bay Wheels, Commute with Enterprise, UCSF Bikes!, Scoot, Edenred Commuter Benefit Solutions, UCSF Office of Sustainability; Skip (helmet giveaway), Go Box, Pacific Coast Farmers' Market Association, Canteen, UCSF Transportation Services, UCSF Mobile CLS Tech, and the San Francisco Bike Coalition.
When you consider the Chase Center will host more than 200 events a year; 90 of which will attract between 12,500 and 18,000 attendees, it's easy to understand why so many people subscribed to receive traffic calendar alerts. The new ETA.ucsf.edu website provides a two-month calendar alerting UCSF community members who must travel by car to Mission Bay of impending traffic congestion. On red days, commuters can expect major delays as the new Chase Center is having an event with more than 10,000 attendees or there are events at both the Chase Center and Oracle Park with similar start times or there are events at either arena in conjunction with other Mission Bay activity.
You can find a Ready, Set, Chase! photo gallery at the bottom of Inside CLS.