Phillip Kee Joins Transportation Services as Parking Supervisor
---
Published on December 08, 2015
---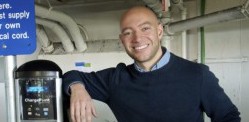 When Phillip Kee joined UC San Francisco as the university's new parking supervisor, he was amazed at the size of the campus.
"It's surprising to me how integrated the university is into the city of San Francisco," he said. "Each of our campuses seems to take on the character of the surrounding neighborhood. Even the weather is different at each campus. I'm still getting used to being warm at Mission Bay and needing a jacket when I come back to Parnassus."
One thing each neighborhood shares in common with the university is the lack of parking. "San Francisco is dense," Kee said. "It's difficult to accommodate everyone's parking needs when there are roughly 25,000 employees and 7,200 spaces. I don't have a parking space. I commute to San Francisco from Oakland on BART and MUNI."
Kee grew up in Oakland but left the Bay Area to attend college in Baton Rouge, Louisiana. "I went to college in Baton Rouge because I wanted to experience something different from the Bay Area. I wanted to get away from my support network and experience a different culture."
Kee said he loved his time in Louisiana. He regularly attended the Mardi Gras festival and traveled often to New Orleans. Kee also learned that Southeastern Conference college football is nearly a religious experience for many fans in that part of the country. "There's nothing quite like SEC football," he said.
While Kee enjoyed the South, he was ready to return to the Bay Area. He was hired as a parking enforcement officer for the City of Chico, allowing him to move closer to his native Oakland. "I wasn't on a career track in parking enforcement during college," Kee said with a laugh. "I enjoyed my time in Chico. I would walk the downtown area enforcing parking violations. I would normally walk 10 to 15 miles a day. I'll admit, I've gained a few pounds since I joined UCSF and began working in an office."
In his role as parking supervisor, Kee oversees a team of parking valets and enforces parking rules at the university. If someone appeals a parking ticket, it ends up on Kee's desk. "I read all of the appeals. It's very similar to my work in Chico."
Erick Villalobos, Director of UCSF Transportation Services, said Kee is a very talented and smart young man. "We are very fortunate to have him in Transportation Services."
Wayne Kwan, Senior Parking Operations Manager, said he can depend on Kee to build and maintain productive relationships with the frontline employees. "Phillip has a very bright future ahead of him and I wish him nothing but the best. We are very fortunate to have him on our team."
Kee said he enjoys working in the various San Francisco neighborhoods. "Mission Bay is an incredible place but I also like Parnassus. The campus is older but it's on the edge of Cole Valley and I can walk to restaurants and I love the neighborhood. The variety at UCSF is amazing."