Passengers Come First For Shuttle Driver Carmen Lee
---
Published on March 17, 2015
---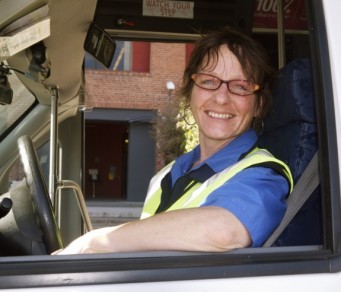 Nothing is more important to UCSF Transportation Services shuttle driver Carmen Lee than her passengers.
"What I like best about being a driver at UCSF are my passengers," she said. "I love helping people. We have quite a few elderly, disabled and kids that use the shuttle and I enjoy helping them get to their destination."
Lee was born and raised in San Francisco and lives with her family in the Bayview neighborhood of the city. She's been a shuttle driver for the past six years.
"Carmen is a genuine and down to earth person who really likes to work with people," said Erick Villalobos, Director of Transportation Services. "She is kind and even though she has a tough job to do, I always see her with a smile on her face!"
Lee said her favorite route to drive is the Gray route, which runs non-stop from Mission Bay to Parnassus. "I like driving the big diesel buses," she said. "It's a little easier to drive because you sit up higher and you can see everything around you. They're a little older and a little quirky but they're fun. It's actually difficult to transition back to my car after I've been driving the big busses because I sit so low."
Before working at UCSF, Lee was a stay-at-home mom with her two sons, 10 and 12. Both boys love to skateboard and Lee said they usually spend at least one day each weekend checking out Bay Area skate parks. "Potrero Hill is our local skate park and we spend most of our time there."
Lee, who currently drives the Yellow shuttle from San Francisco General Hospital to the Mission Center Building and over to the 16th Street BART station, said the traffic in San Francisco can be difficult to deal with, especially with a large bus full of passengers. "The biggest issue is delivery vans and garbage trucks that double-park," she said. "It's really tight squeezing by those big vehicles with a passenger bus. I really have to stay focused on the road and maneuver around the obstacles on the city streets. It takes a lot of patience and deep breathing."
When her stress reaches a high level, Lee said she remembers her primary goal. "I want everyone on my bus to get from Point A to Point B safely," she said. "Safety is my number one goal."
Last summer, Lee drove the Lime and had to maneuver through a myriad of construction projects. "They were everywhere," she said. "Guerrero Street at Duboce Avenue was torn up for a big project. There was a big MUNI construction project at the tunnel near Duboce Park and Roosevelt had construction. It was a challenging route."
She also drove the Gold line where the traffic is always difficult around the Civic Center. "Passengers get frustrated because they're in a hurry to get home and we're stuck in traffic. I try to lighten the mood by greeting everybody when they walk on the bus and telling them goodbye when they walk off. I've even had supervisors
greet me at the stop and say, "you're really late but all your passengers are still smiling. How do you do it?"
Villalobos said Lee's laugh is contagious and is a big reason her passengers like riding her shuttle. "She is very professional, engages both her co-workers and customers, and she will provide management with her thoughts and insights to improving shuttle operation. She is a wonderful asset to have on our UCSF shuttle team."
Lee said she's been fortunate not to have to drive a shuttle around Mission Bay during San Francisco Giants games. "That's really tough," she said. "It's only going to get tougher with the Warriors moving to Mission Bay. I can only imagine how crazy it's going to be when both teams are playing at home on the same day."