Milestone Celebration 2021
---
Published on May 14, 2021
---
Please join Campus Life Team in recognizing 106 colleagues who've reached a significant service milestone. We're more than proud of these team members and value their years of service to UC – more than 1,165 years in total! – and their dedication to making life better here at UCSF. Join us in celebrating their achievements!


30 Years of Service
Hien Duong – Facilities
I have worked with Hien for the past two years, and it has been a pleasure to work with him; he is very attentive to customers' needs. Hien has been a great asset to the UCSF custodial team. With great pleasure, I would like to inform everyone that he retired on May 13, 2021, after 30 years of service. He will be missed by his coworkers and customers. - Elia Camacho
25 Years of Service
Burton Lau - Transportation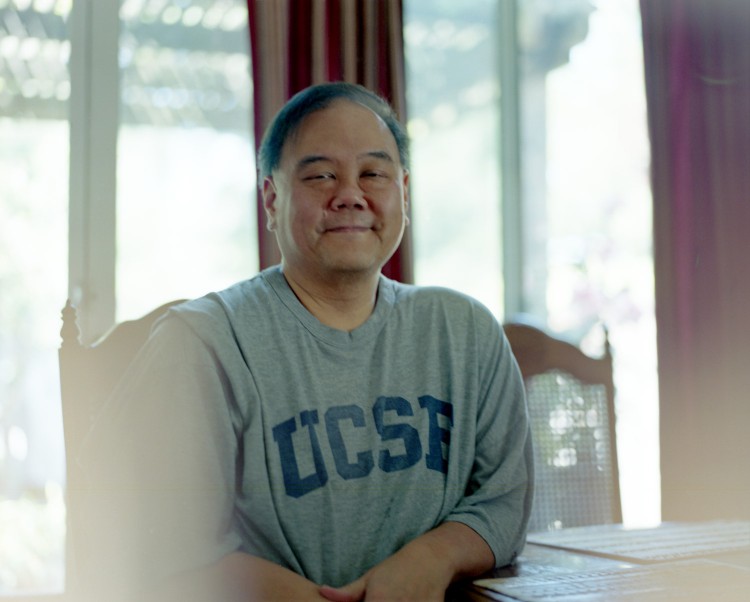 November 16, 1995, was Burton's official hire date as a senior clerk! He started in the "Quick Copy Center," now known now as Documents and Media, as a Xerox operator. With QCC he was able to work at many locations, such as General Hospital, Oyster Point, and Laurel Heights. Burton actually helped open the new Copy Center at Laurel Heights. A few years later QCC merged with The Source (the only computer store in the entire UC system). The manager liked his customer service, so he was hired as a Sales Associate. Mainly his role was selling Apple and Dell computers, as well as Software and accessories.

After working with The Source for a few years, he then found his niche with Parking and Transportation—now we are known as just "Transportation Services"—and he's been with this department for well over 10 years. With Transportation, he watched how we have grown to a well-oiled department! When he started at MB Hospital it was a bit challenging with his cashiering tasks, however he succeeded.

One of his fondest memories was volunteering for Campus Auxiliary (now CLS) to help put together the first and only interactive Halloween Haunted House at Parnassus. It was so popular that a line formed all the way down the street for people to visit. Of course his greatest honor was helping and organizing "The Black & White Gala" that brought so much energy and donations to Campus Aux (CLS). He will always remember those days of searching for a venue, finding a band or DJ and having it catered. So much fun that was! Burton's next honor was being asked by Stella Hsu (Vice Chancellor) to join the first CLS Team in which he was involved in the planning of CLS Picnics, outings and promoting the opening of MB HOSPITAL.
Many thanks, Burton for your efforts and help with CLS - making life better! - Marlene Ramirez

James Palmer – Housing
James Palmer celebrated his 25 year milestone in Housing Services. He began his employment on December 1, 1995, as a front desk assistant. Back in those days, the department was called "Campus Housing" and the office was located in the Millberry Union. There was no Mission Bay, no Tidelands, no 145 Irving Street, and most of Aldea San Miguel wasn't even built yet.
Over the years, James has been involved in the development and operations of all of these properties. Now as a Housing Facilities Analyst, James plays an instrumental role in the turnover of apartments in between tenants, as he carefully schedules the sequence of maintenance staff, painting vendors, flooring replacement projects, and custodians to restore residential units to move-in condition. In just the month of July 2021 alone, James will have over 400 apartment turnovers on his list! In the off-season, he dedicates the majority of his time working with vendors, supporting large infrastructure projects, and strengthening the tenants' WiFi network.
James is a trusted employee, who strengthens our team dynamic with his good humor, cooperative nature, and years of experience. All of us at Housing Services are happy for James in his achievement, and we look forward to our continuing collaborations with him! - Todd McGregor
20 Years of Service
Daniel Woodward – Facilities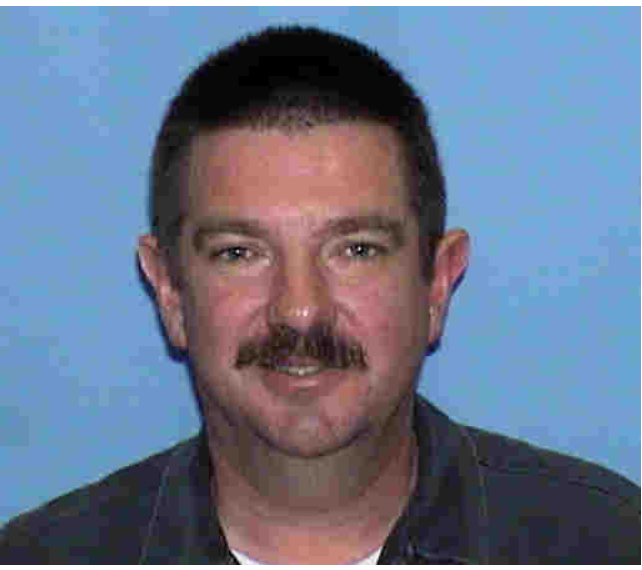 Congratulations on your 20 years of service milestone achievement as you celebrate a significant anniversary of your employment at UCSF, Facilities Services, ACSS (Lock Shop). Reaching this milestone is a very special occasion for you and our department since it is a testimony of your professionalism, loyalty, respect, integrity and most of all, your customer service.
I personally appreciate your willingness to listen without judgment and promoting teamwork. Your experience and working knowledge have been an asset to our department. You are a valued member of our team and your continued contributions are vital for UCSF to continue to be successful in meeting our stated mission, vision, and values.
Our organizational achievements are made possible because of your individual efforts as well as the efforts of your team members. Again, thank you for your hard work and dedication. We look forward to your ongoing contributions and a bright and successful future together. - David Roman

Eric Wu – Documents & Media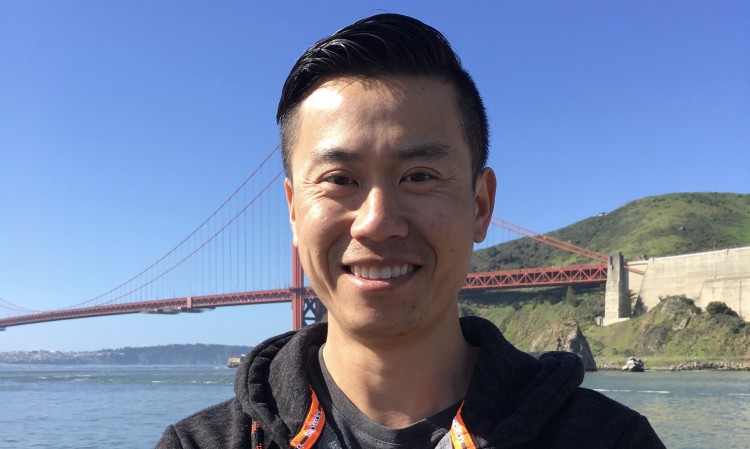 We remember when Eric first started in DM–at a small desk stuck behind the door of our small office in Millberry Union on P8. Back then we were able to squeeze in 8-10 staff into the space! Lisa hired him and she was worried and not sure how this 18-year-old would fit into DM, with this potentially being his first career job at the time. Eric was then, and continues to be, a fast learner and he is willing to do whatever it takes to progress as an employee and support the University. Within a few weeks of training when he first arrived, he quickly moved into the customer service frontline taking in customer print job orders all by himself. Because of his potential, a few years later Lisa was able to pull him from the front line, moving him over to support our growing Print Management Program (PMP) at the new Mission Bay campus. Because management trusted his work ethic and capabilities, Eric was able to become one of the primary leads of the PMP team, proving to Lisa again that she was right in hiring him. He is a dependable hard worker, always willing to learn and go the extra mile for DM.
Eric provides excellent customer service to both internal and external customers at all locations (UCSF, UC Berkeley, UC Hastings Law) that DM PMP supports. Lisa is always proud to say that "Eric is one of the best staff she has ever hired." We are very glad that Lisa hired Eric. Congratulations, Eric! - Mario Carmona & Lisa Gee

Jen Dowd – Retail & Conference and Event Services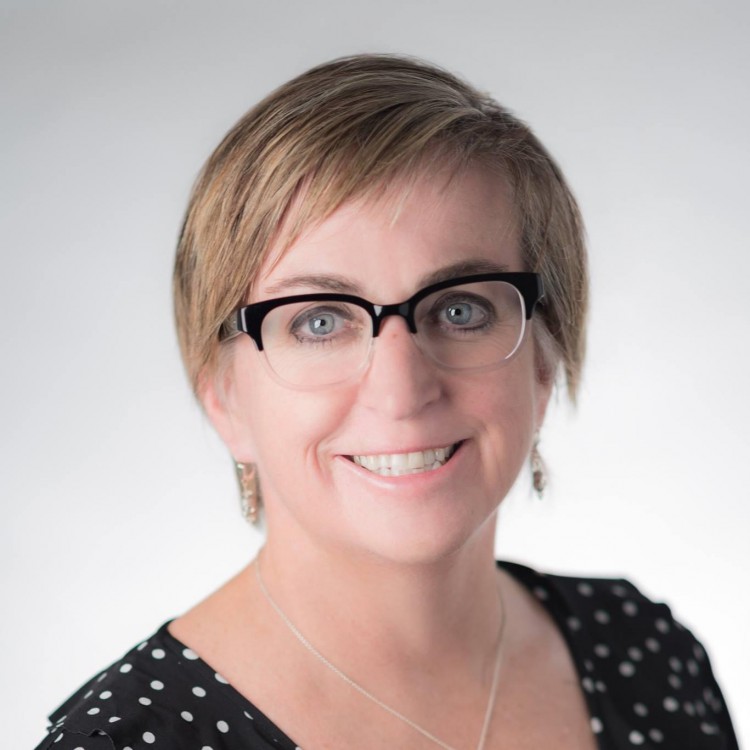 Arriving at UCSF as the Vendor Services manager in December of 2000, Jen transformed the Retail Services operation; opened, then supported our Mission Bay Conference Center; and started the Conference and Event Services operation with the expansion of Millberry Union Conference Center and the Conference Center at the Wayne and Gladys Valley Center for Vision.
In her role, Jen brings decisive decision making, creativity, and a great deal of talent. We know her for supporting the university and people through extraordinary circumstances. And, we know her for her commitment to the community. Whether it be by awarding retail contracts to local businesses, or leading our Campus Life Services AIDS Walk team, Jen can be counted on to bring her expertise to the planning and process of any situation.
In essence, Jen values teamwork, knows the power of collaboration, embraces PRIDE values, and just over all Makes Life Better Here! Congratulations Jen on your 20 years of service! - Cindy Yoxsimer

Marlene Ramirez – Transportation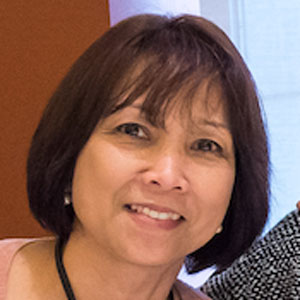 Marlene Ramirez is extremely dedicated to the Transportation team. Her experience and level of institutional knowledge have been especially helpful with some of the challenges brought on by the COVID-19 pandemic. Marlene is always available to assist the team, whether it means jumping on a Zoom call with little warning or coaching her team onsite. The amount of respect Marlene demonstrates with all stakeholders interactions and her level of integrity are consistent with UCSF's highest expectations regarding our PRIDE values. - Joe Braucher

Mary Anne Hallacy – Facilities

Mary Anne Hallacy has been a great addition to the East Campus Facilities Manager team. She started with Facilities in October 2019, after previously serving at UC Berkley for 18 years. She's played an instrumental role with the newly formed Lab Services program, and she's driving forward initiatives that support freezer monitoring and seismic bracing for the research community. In addition to the Lab Services program, she's also playing a critical role as our Facilities Manager for two new buildings - Weill Neurosciences and 2001 The Embarcadero. She's been engaged with our key stakeholders to ensure that our building occupants transition smoothly into our newest additions to UCSF. Mary Anne has been an amazing team member within the program and exemplifies UCSF's PRIDE values with not just the program but with the campus community. Please join me in congratulating Mary Anne on her 20-year milestone within the UC system! - Darrick Lo

Melanie Woods – Facilities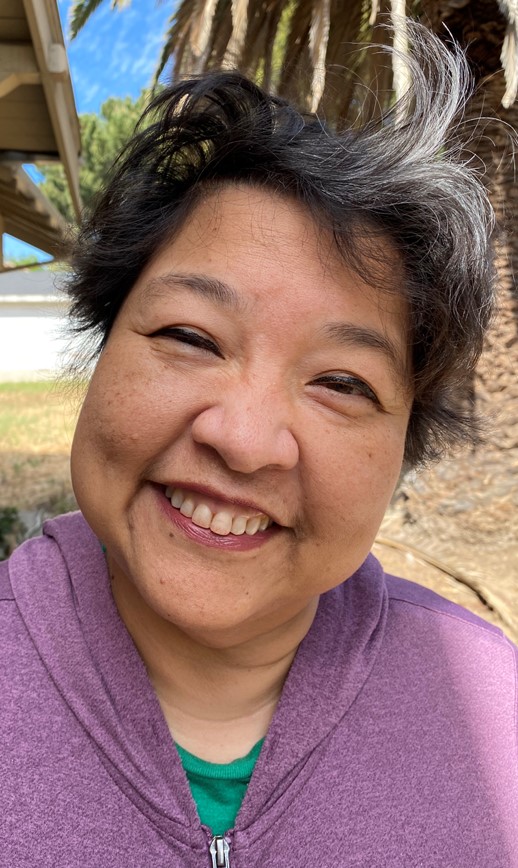 Melanie Woods started her UC career at Lawrence Berkeley Labs in the Facilities department 2009. She held a number of positions there, including Call Center supervisor and Facilities Master Planner. Melanie transferred to UCSF to join the Facilities Services in January of 2018. She joined the Facilities Services as a Planner Scheduler for the Trades group. The experience and knowledge she brought with her have helped improve the operational effectiveness and efficiency of the Trades. She displays PRIDE values in all that she does, as people appreciate Melanie's willingness to listen without being judgmental and that she respects and values their input and feedback. She is an important member of the Facilities management team and her continued contributions are vital for UCSF to continue to be successful in meeting our stated mission, vision, and values. Thank you, Melanie for your valued service. - Mike Jang

Pablo Ortega – Facilities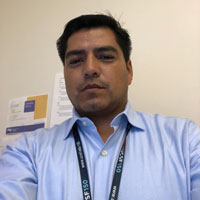 Congratulations Pablo Ortega for your 20 years of service at UCSF. Your career started at UCSF with Fitness and Recreation where you often reminisce of the fond memories there. You moved into custodial and worked your way up to being a Lead Custodian. You had shown an interest in the Recycling field while working as a custodian and made the leap into the Recycling and Waste Reduction Program. You certainly have left impacts at all the departments and roles you've been in over your career here. Thank you for all your dedication here at UCSF. - Daniel Chau

Roger Lacayo – Transportation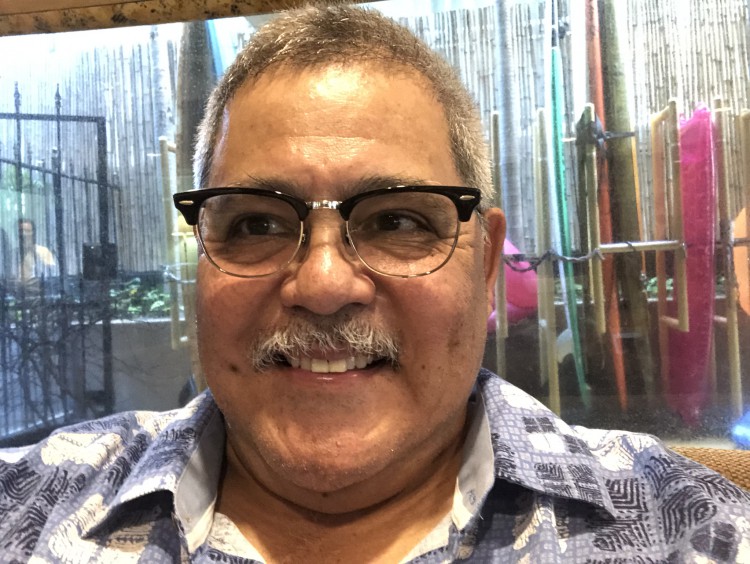 I have been managing Roger for over 4+years now. Roger is a dedicated valet employee who always has a positive attitude. He is well respect by his fellow employees. Roger is one out of 3 work leaders. He leads by example and pushes his fellow employees to succeed and work hard. Roger is a hard worker who has a good attendance record. He is an overall excellent employee who is well respected by everyone. Congratulations on reaching 20 years! - Andy Herrera

Sonny Nguyen – Facilities
Sonny is such a valuable member of our team. He has worked hard on providing service to the research community with his skill and knowledge of refrigeration by repairing and supporting lab cooling equipment. His efforts are truly remarkable and have allowed UCSF continue the fight against COVID and many other life changing research. Many customers only ask for Sonny when they need assistance with their lab or freezer. - Rance Kilbourn
Tony Amador – Transportation
Tony has been a valued member of the Campus Life Services team for an impressive 20 years now, serving the UCSF community as a shuttle driver. He is well-known by his colleagues in the Transit division as a person we can always rely on. Tony really takes ownership of his duties, and his two decades of experience come across in his knowledge of and attentiveness to our department's goals and values. Tony is unfailingly mindful of upholding our department motto of "Safety Above All," and he provides exceptional customer service to our riders as an ambassador of UCSF PRIDE values. I offer Tony my heartfelt thanks and congratulations for 20 years of service to UCSF. - Drew Pannell
Yolanda Marquez – Central Admin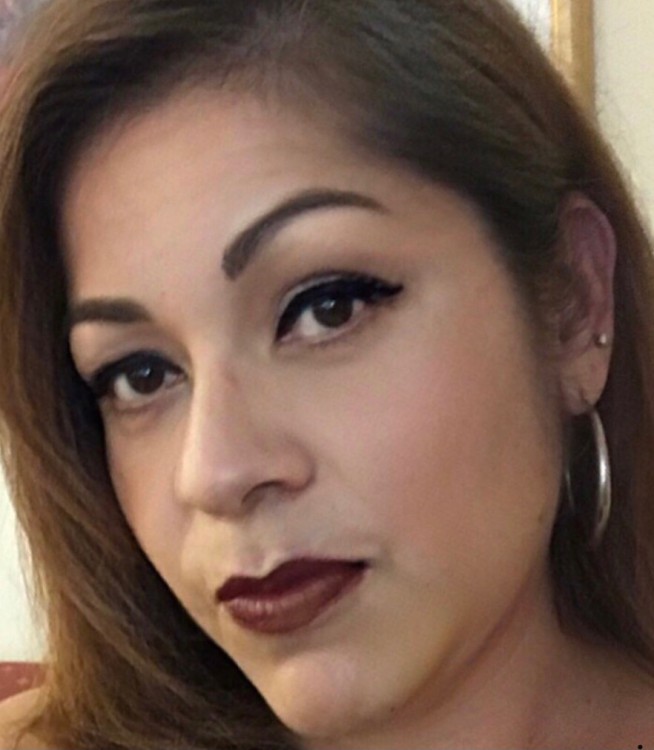 Yolanda Marquez has worked with CLS in a couple of different roles, starting in Child Care before it moved under contract with Bright Horizons. After moving under CLS Admin, she continues to support Family Services administrative needs and maintains the security access for teachers and parents of children attending the UCSF centers. Yolanda now supports the larger CLS enterprise and provides a "can do" attitude towards all tasks and is continuously open to learning new systems and processes. She never procrastinates and jumps in with a smile and the mindset to get things done. An important part of the Central Admin Team, Yolanda works in partnership with her colleagues and continues to make life better here. Congratulations on 20 years of service! - Shauna Strong
15 Years of Service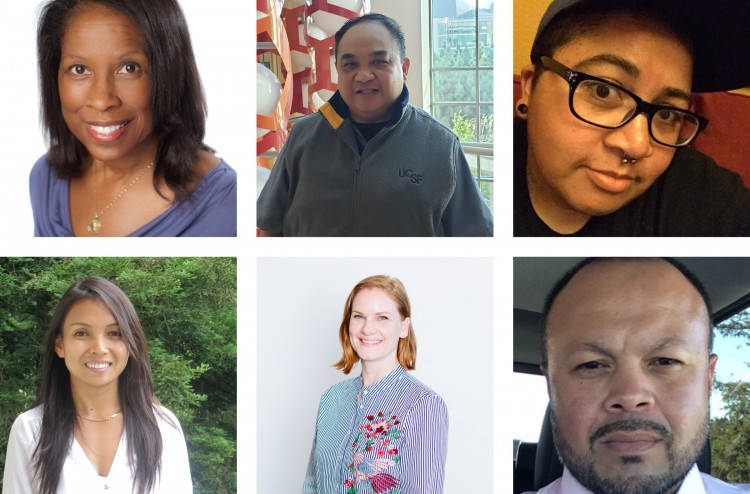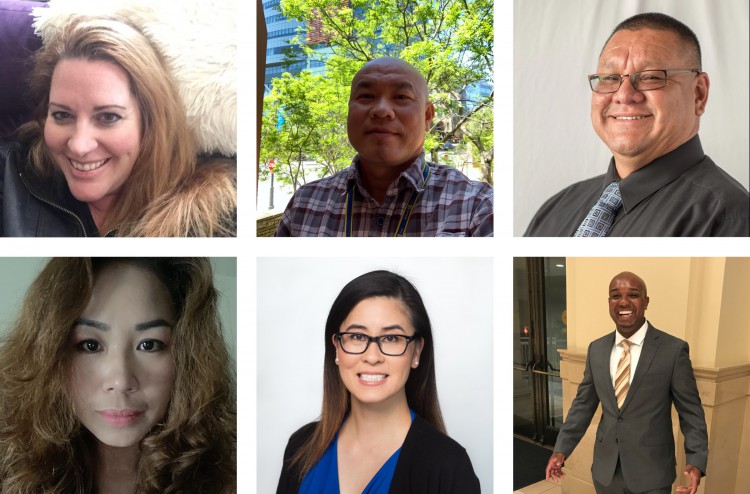 Left to right: Adrienne Chambers ~ Angelito A. Silva ~ Carla J. Ayala ~ Chhunleng Tov ~ Dani Cambier ~ David Roman ~ Emily Lefson ~ Eric Yau ~ Jaime Mac ~ Jessica Li ~ Joanna Yee ~ Jon Henry ~ Mike Roberson ~ Sean Aloise
Not pictured: Aldo Rossetto ~ Carlos Alfredo Vides ~ Estelita Mendoza ~ Fernand Regalado ~ Jenny Low ~ Jose H. Beltran ~ Kenneth Gong ~ Kenneth Meyerhoffer ~ Maria E. Melara ~ Myrna Ferrer Caragan ~ Nana Geodzhayeva ~ Patricia Pastora Jiron ~ Peter Yu ~ Qian Hong Liu Jang ~ Rich Edward Portillo ~ Wayne Yen Kwan
10 Years of Service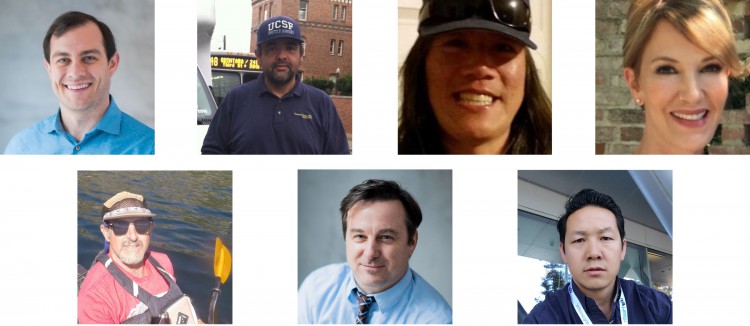 Left to right: Adam Schnirel ~ Gus Del Toro ~ Harrison Liu ~ Jacquelynn L. Rodriguez ~ Kirk McLaughlin ~ Paul R. Landry ~ Thupten Lhundup
Not pictured: Arturo Medina Reyes ~ Bao Ling Lin ~ Carlos Gallardo ~ Chit Ngai Wong ~ Columba Munoz ~ Daniel Chau ~ Dante Domingo ~ Dartagnon Tabor ~ Fabiola Calderon ~ Kwock Wah Fong ~ Marissa Rivera Pasco ~ Tiffany Yee ~ Xayaseth Boudsady
5 Years of Service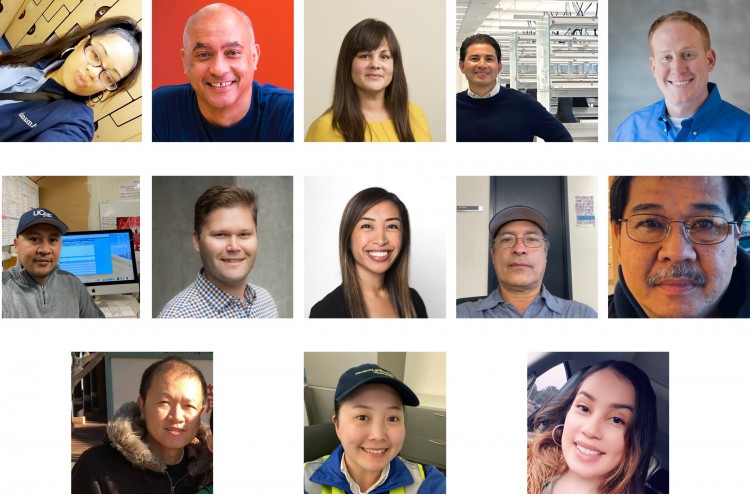 Left to right: Amanda Palega ~ Andre Thelemaque ~ Arleen Bandarrae ~ Cesar Sanchez ~ Charles Conway ~ Edmond Brillantes ~ John Rosendo ~ Kathleen Yumul ~ Rafael de Lara Rodriguez ~ Rene Torres Tanjuakio ~ Yong Peng ~ Yuzi Yan ~ Zulma Montesinos
Not pictured: Alexis C. Pellette ~ Angela Silva ~ Brian Chaparro ~ Denny Nguyen ~ Elia Camacho ~ Georgina M. Arias ~ Gladys Y. Flores ~ Harold Lee ~ Harold Kanene Onuekwusi ~ Isidro Y. Yumang ~ Jacob Scheidler ~ Jaretta Kim Osmond ~ Jonathan B. Chapple ~ Jose Manuel Rojo ~ Joyce A. Nelson ~ Karina I. Cota Cardenas ~ Kenisha L. Townsend ~ Kevin A. Roldan Rojas ~ Medel G. Quiambao ~ Melissa Hobbes Cherry ~ Michael O. Phie ~ Miguel Angel Marinero ~ Mui-Leng Tsang ~ Paris M. Reed ~ Shalonda Reliford-Titus ~ Thomas Sedaka ~ Tyda Long ~ Yiyin Xie